I've just returned from a week in Dunedin. It's quite a trek. Even flying direct from Wellington it still took almost two hours in a smallish plane.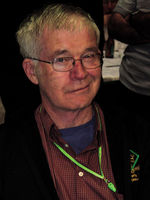 But the trip is always worth it, no matter how you travel. Dunedin was sunny and warm and gradually, while I was there, various little trips were suggested.
The centre of my visit was Dr Peter Norris at St Margaret's Hall of residence. I've known Peter for more than 20 years.
He was extraordinarily busy because it was just before the start of the academic year at Otago University. The summer school students had to be farewelled, new staff introduced to their year's tasks and already there were signs of incoming students. The more work that is done early in the year, the smoother the year passes.
Having been there more than 20 years, Dr Norris, who is also a priest, is the unofficial chaplain to anyone of the thousands of staff and students who get in touch with him.
Apart from Dr Norris I also caught up with Sr Mary Concannon. She's at the Little Sisters of the Poor home in Brockville because she had a major stroke some six years ago.
I knew her well when she worked in Palmerston North and later at Teschemakers near Oamaru. Those who knew her would still recognise her bright, cheery figure.
Where once she was helping people all over the country by calling on them, she is now ministering from her computer.
She has a majestic view of Dunedin from her room. I visited her twice and we solved all the difficulties facing the church in this country and a few overseas as well!
On Sunday morning we went for coffee after Mass. It's a brief walk from the church to the coffee bar in the museum.
One of the friends who gathered there was Trish Smith who has known Fr Peter for many years. She is the mother of Suzanne who is married to Greg Cooper. Trish invited us for lunch to meet the Coopers.
That was a reunion in itself because I last saw Greg when he was at St John's Hastings and I was on the staff at Francis Douglas College, New Plymouth.
We checked out a long list of old boys. Greg now coaches a Japanese rugby team and liaises between referees and coaches at Super 14 level.
It was great meeting Trish Smith herself, and hearing about her late husband who had been a noted scientist. Greg Cooper was an added bonus.
When I attended Otago University in the early 1990s, there was an accountant who did the books for St Margarets.
We didn't see much of John Vincent but I got to know him when he came to lunch. He's stopped doing the college's accounts now but he still keeps in touch. He was a little younger when I was student and he's 80-something now but very fit.
He took me to the Chinese Gardens and to see the butterflies at the museum. Why the Chinese built a garden in Dunedin I'm not exactly sure. Otago had a huge amount of gold in the late 1800s and the Chinese helped the prospectors to find it.
The butterfly cavern is a large, hot and humid space on top of the museum, home to hundreds of tropical butterflies – amazing to experience.
I was in Dunedin for only a week but there is so much of interest to do.
Each year there is a new team of young people in charge and, despite my not remembering names so well and conversation being quite hard, they always make me welcome.