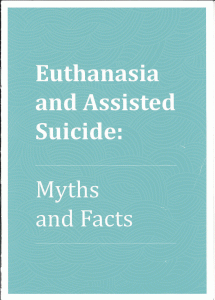 Get Involved
'Life is full of blessings, challenges and opportunities. Even dying brings its own unique blessings, challenges and opportunities. 'Dying well' is as important as reaching our potential at school and at work, or finding happiness and fulfilment within our families and with our friends. The work of dying well often involves the healing and/or deepening of relationships.' – NZ Catholic Bishops, November 2011 (www.catholic.org.nz).
In response to a petition from Maryan Street, the Parliamentary Health Select Committee will be undertaking an investigation into ending one's life in New Zealand and have called for submissions. The committee will be investigating: the factors that contribute to the desire to end one's life; the effectiveness and support available to those who desire to ends their own lives; the attitudes of New Zealanders towards ending one's life and the current legal situation; international experience.
The closing date for submissions is Monday 1 February 2016. Information on how to write a submission (a letter outlining your views) to the Health Select Committee Inquiry is available on the Care Alliance website (www.carealliance.org.nz).
The NZ Catholic Bishops Conference has produced and distributed a booklet, Euthanasia and Assisted Suicide: Myths and Facts to help ensure New Zealanders are always treated with dignity and compassion, right up to the point of death, and to raise awareness and better understanding about the dangers of euthanasia and assisted suicide. Suggestions about what you can do include talking to friends, family, colleagues and MPs and how to write a submission to the Health Select Committee Inquiry – which can simply be a letter outlining your opposition and concerns. (The booklet is online at www.catholic.org.nz or email communications@nzcbc.org.nz for a copy).
The Nathaniel Centre, NZ's Catholic Bioethics Centre, has a website page about the issues of legalising euthanasia and/or assisted suicide. Information includes the draft 'End of Life Choice' Bill, key arguments, what you can do, and how to write a submission to the Health Select Committee (www.nathaniel.org.nz/euthanasia).
Palmerston North Diocese's website has information at www.pndiocese.org.nz/writeforlife. The Diocese's Justice and Peace Commission's Life Issues working party held a workshop in November about how to write a submission, with Simon O'Connor MP and chair of Parliament's Health Committee on hand with advice. Contact the working party through Mark Richards at mrichards@pndiocese.org.nz or phone (06) 350-3823.