Palmerston North
6 November 2012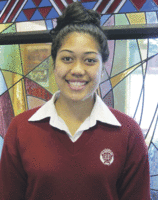 Sacred Heart College Napier's head girl Hinemaria Onesi has been awarded a University of Auckland Chancellor's Award for Top Māori and Pacific Scholars.
The university received more than 260 applications and 46 have been awarded through New Zealand for study starting in 2013.
This award recognises Hinemaria's exceptional ability and outstanding achievements to date.
From a Tongan family, Hinemaria has shone in oratory, helping the college to its O'Shea Shield victory (with St John's College Hastings) in May and taking second place in the national ANZAC speech competition in April.
The scholarship, worth $35,000, will cover all Hinemaria's fees for the first three years of her undergraduate degree, accommodation in O'Rorke Hall and academic mentoring during the first year.
Hinemaria plans to study health science.