Amid dust, heat, violence and apathy, 80 unschooled youngsters from Venezuela's poorest families in the south of the city of Valencia queue up to enrol in Colegio Juan Claudio Colin founded by New Zealand Marist Father Pat Brophy some 20 years ago.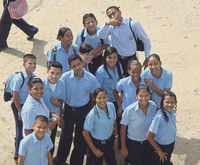 There are no vacancies in any class of this school which now belongs to the Catholic lay educational movement 'Fe y Alegria' (faith and joy) founded in Venezuela but now present in many countries of South and Central America and Africa.
The movement establishes and runs schools that cater for the poorest of the poor in the areas that they are situated in, being in a way 'elitist schools in reverse'. New entrants are accepted on the basis of their level of poverty and social need.
Colegio Juan Claudio Colin has slowly expanded to encompass secondary as well as primary levels. The government pays the teachers but other costs must be covered by other means. Forthcoming local donations for the school's development are considerable but not sufficient.
Tony O'Connor now the Marist in the school has set out to raise funds for a second floor with three classrooms, a stairwell and toilet blocks to accommodate 40 more pupils for each year to 2011.
The grounds are like a bomb crater and become an inland sea when it rains. So, as well as the building, there has been a push to lay down a basketball, volleyball and mini-soccer court. Money raised is being used to develop the school with patios and green areas so that it's 'more like a park than a vacant lot'.
'This will help us with the education process, particularly in terms of ecology and nonviolence and creating a better atmosphere for kids to learn in and motivating them to do so.
'Last year we built concrete benches and tables so that the older ones can sit around and talk, play board games, or do a study project. The students are cultivating donated plants and learning about ecology.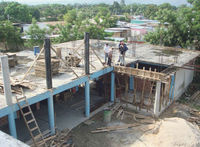 Despite huge mineral wealth – diamonds, gold, gas, petroleum – the poverty in Venezuela is considerable. The fact that 'A bottle of mineral water costs more than a full tank of petrol' should not be taken as a sign that the cost of living in Venezuela is cheap. On the contrary in this little corner of Venezuela where J C Colin College is situated, 'ends don't meet' for most families of the barrios. 'The people bravely battle on the best they can.'

A bid to reduce violence and apathy
The ecological push is also an effort to create an environment that lowers the violence and apathy and motivates the students to finish their education and be sufficiently qualified to do something with their lives.
'Then they won't go into the gangs, and the drugs and killing,' Fr O'Connor says.
Most families are mourning a family member in the 15 to 24 age group who has been shot dead.
Eighteen-year-old Michel's body was found in a dry canal. He'd been trying to get away from a drug habit but the dealers would not let him. Only his mother had sufficient love to sit with him in the funeral parlour after he had been dead for four days in such a hot climate. Another young man, Osmel Enrique who had survived being shot the year before, arrived bleeding at his grandparents' house and said 'God gave me another opportunity but I did not take advantage of it,' then dropped dead at their feet.
Wheelchair-bound Gabilo was the victim of a revenge killing. The assassins were sent to murder his wife because their son had killed. The avenging family wanted the mother's death because this would make all the family feel more pain. 'Lucky for Mum, she was not home.'
In this violent environment, education of the poorest and most vulnerable is vital to boost their chances of staying off drugs and overcoming the hopelessness of life in the barrios.
However, going to school is a chancy thing with the teachers often absent because of traffic queues. Many would travel an hour and a half each way to this school locked away on the edge of Valencia's industrial and rural zones. The area is also dangerous – bullets can fly at any time of the day or night.
Keeping drugs out
'Last year the gangs were trying to get into the school with drugs but we managed to talk with the students and parents about them and how harmful they are and we have so far succeeded in keeping drugs out of the school.'
A fiesta evening of music and dance from some of Wellington's top artists including members of the New Zealand Symphony Orchestra is scheduled for Saturday February 20 at 7pm. For more information and to reserve tickets, email nettie.hastings@gmail.com or phone Antoinette 04 3881210.