WelCom June/July 2021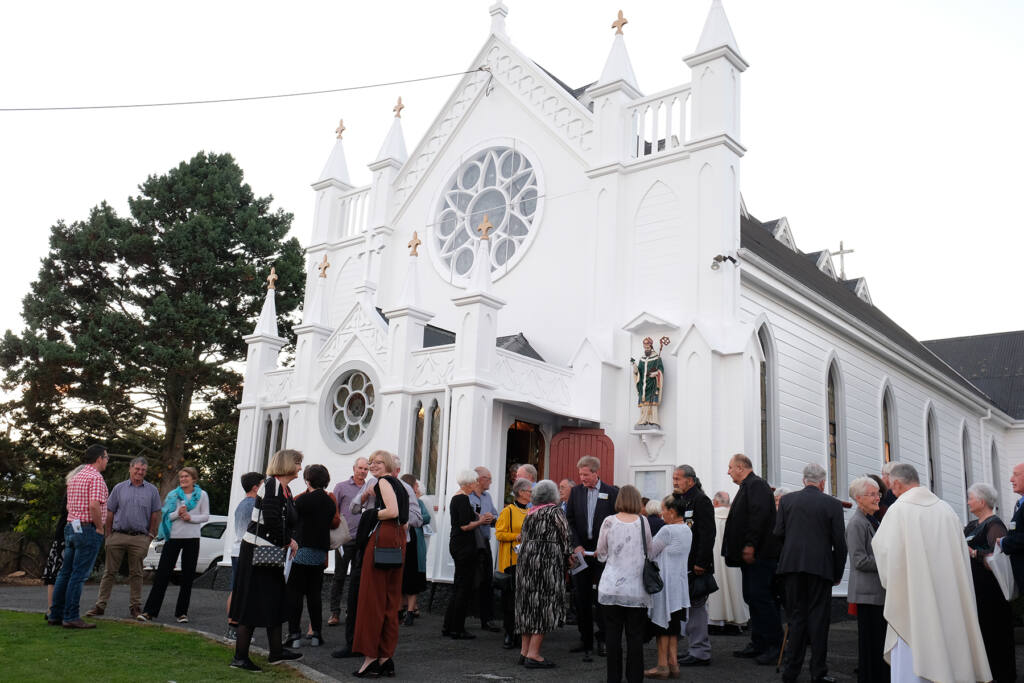 Sally Butler
Over Anzac weekend this year, parishioners and clergy gathered to celebrate 150 years of St Patrick's Church in Waipawa, Central Hawke's Bay.
During the 1860s the renowned Fr Reignier, of the Meanee Mission, Napier, travelled down to Waipawa on a monthly schedule, using the local schoolroom for his services. At his instigation, a small mission church was built in 1871, and a permanent parish priest appointed. Ten years later, this building proved too small for the growing congregation, and a second, larger, church was built. Regrettably a fire during the night, said to have been caused by a lamp left burning in the Sacristry, completely destroyed the building in 1920. After intensive fundraising, the present church was completed and dedicated within a year.
It was a busy, successful,
and well-attended weekend. The church had been repainted for the occasion, and was glowing with freshly waxed wood, spectacular flower arrangements, and gleaming candlesticks.
The weekend began with a 'Mix and Mingle' on Friday night at the Waipawa Town Hall, where Fr Paul Kerridge, of Holy Trinity Parish, gave a speech of welcome. The launch of a history of St Patrick's Church, [written by Sally Butler] followed. Convenor of the Jubilee committee, Jo McGowan, presented the author with flowers, and thanked her for her efforts.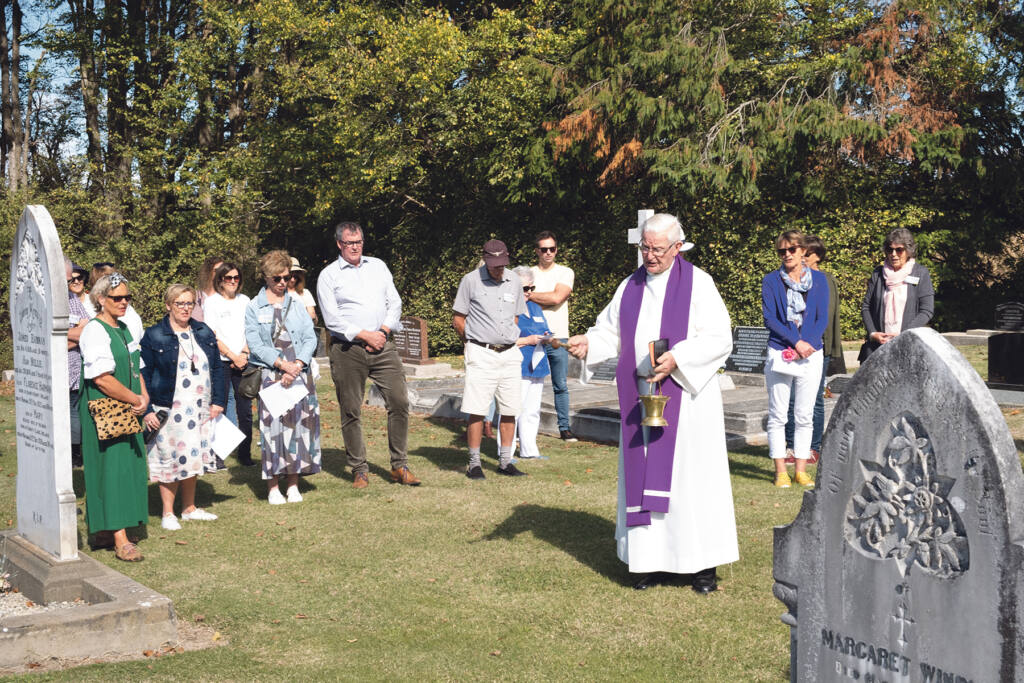 Attendees included Cardinal John Dew, who was born in Waipawa, Bishop Peter Cullinane, who has family ties to the parish, and Sr Margaret Anne Mills Congregational Leader of the Daughters of Our Lady of Compassion, who grew up in the area. A number of former parish priests were present, as well as several representatives from the Palmerston North Diocese and the Archdiocese of Wellington. Of special note were the many descendants of early families who were present.
Saturday events included a guided cemetery walk, and an historic display of memorabilia, curated by Fr Kerridge. The display included vestments, banners, parish ledgers and registers, photos, antique bibles, funeral cards, and St Columba Convent School records.
Following the Jubilee Mass at 4.30pm, the congregation walked together down the hill to the Town Hall for dinner, where they listened to speeches from Cardinal Dew, Central Hawke's Bay Mayor Walker, and Fr Kerridge, whilst enjoying wine from the Lime Rock Vineyard of parishioner Rosie Butler and her husband Rodger Tynan.
The weekend wound up early on Sunday after Mass and morning tea in the sunshine on the lawn in front of the church, leaving time for attendance at Anzac Day commemorations.