WelCom December 2018:
Fr James Lyons
ADVENT means 'approaching' – something is coming! It is traditionally a four-week season in preparation for Christmas, but the first two weeks focus on the 'second coming' of Christ, the time when all will be brought to completion. They follow the feast of Christ the King and conclude the Church's Ordinary Time, opening us towards a new time of celebrating the Word becoming flesh and living among us.
The two 'comings' complement each other: every beginning has an ending, and every ending makes way for a new beginning.
In this article, the focus is on the second part, the immediate preparation for the birth of Jesus and God's intervention in human history.
Here is the first section of a meditation with Mary – through the time of her hearing and responding to God's call, to the birth of Jesus and her coming to life in him. In this part the reader is invited to travel with Mary, to experience her fear, her doubt, her hope and her joy – and to invite her into your own life experiences.
---
Mary's Advent experience – a coming to long for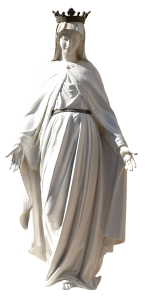 Annunciation
The angel of the Lord declared unto Mary – a moment of great intensity, like the dazzling brightness of a spotlight. The declaration came as a greeting and with the assurance not to be afraid. Often, it's the suddenness of the unexpected that stuns and alarms.
God's entry into a life will invariably shock and startle, and, like Mary, you need to face the question: Do I really want this?
How can this be? – there is no doubt in Mary's mind that she is unprepared for this message. What is asked of her is impossible. Surely, she's not expected to go along with this 'announcement'.
It's easy to close your eyes to possibilities when they seem impossible, out of reach! God does not ask you – nor did he ask Mary – to do the impossible, only to believe.
Be it done unto me – Mary's acceptance seems to have taken no time at all, but we know how much she pondered on the events in her life with Jesus. So, did she pause, get some fresh air, consider the consequences of her 'Yes'? Rushing into a commitment is rarely the best course; yet taking too long with your answer can mean an opportunity lost.
Mary, guide me in the decisions I must make.
Let my faith in God's love always be present in the outcome.
Visitation
Mary went off as quickly as she could – there was no time to waste.
Mary needed to be with someone she could confide in, someone close, another woman.
She knew Joseph was upset.
They both needed time apart if there was to be any future for them.
Blessed are you among women – the affirming words of Elizabeth.
Here was someone who understood the struggle and was also able to bring security and insight.
The child in my womb leapt for joy – unborn and unseen, yet alive with joy and vision. So often it is those behind the scenes, those considered as having nothing to contribute, who hold the answers or can point the way ahead.
Listen to the voice within; it speaks truth without words.
Mary stayed with Elizabeth about three months – staying to rest, to ponder, to treasure and to help. This was not a holiday but a time of unfolding the truth about oneself, reaping the value of friendship and nurturing life. Mary, her anxiety eased in the company of Elizabeth, stays now to ease her cousin's journey to motherhood. Her own journey continues.