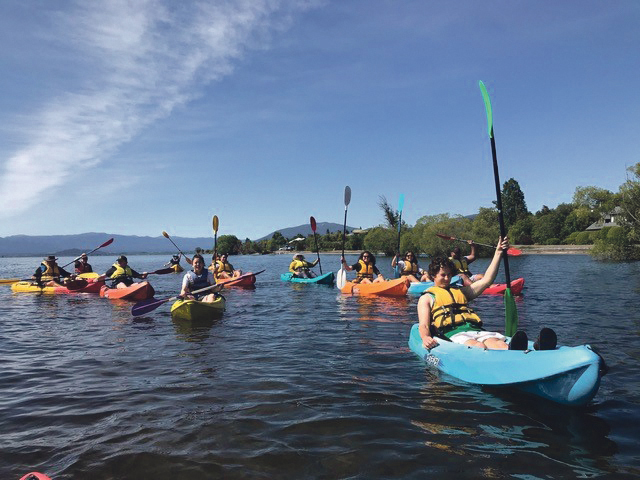 WelCom November 2020
Sio Iaseto-Filo, Gap Year Coordinator, Youth Minister, Challenge 2000
Challenge 2000 is a Gospel-based youth development and social service Trust. Based in Johnsonville, it provides a wide range of programmes, projects and services for young people, communities and families in the Wellington Region.
Challenge includes in its mission an annual Challenge 2000-Marist Formation and Employment Year, funded and resourced by the Society of Mary. Each year, this programme offers eight young people, aged 18–25, the chance to develop the social, spiritual, intellectual, employment, well-being and physical dimensions to help prepare for a successful and balanced life ahead.
The gap-year programme focuses on developing and challenging each participant in different ways, in a nurturing and supportive environment. It involves:
formal NZQA learning;
service placements;
work experiences;
supervision and mentoring;
group work;
travel and exposure to many aspects of our society and Church.
Participants are given a training allowance, and accommodation is provided in the Challenge 2000 youth houses in Kilbirnie and Lyall Bay or with families in Wellington.
Young people who would like to take up the opportunities this formation offers are invited to apply now.
The programme has been offered since 2007 and to date 85 people from around Aotearoa New Zealand and from abroad have graduated from the programme.
Some of the activities and events the 2020 participants have been involved with have included: attending Outward Bound; serving with a Youth agency in Kaikōura; completing a NZQA Youth Certificate; technology training; sacramental and youth ministry leadership; mentoring Youth Justice young people; climbing mountains and kayaking rivers; completing driver's licenses; helping deliver college-based school programmes; working on farms; and hunting up the Whanganui River.
The Challenge-Marist gap year is truly a once-in-a-lifetime opportunity for young people. In between school and joining the workforce, it offers work experience in an awesome environment, heaps of fun, a placement of your choosing and a NZQA level 3 youth work certificate. Opportunities like this are few and far between!
I was an intern in 2018 after completing my degree in Auckland and shifting to Wellington. It was a life-changing experience and I recommend it to anyone who is ready to make a difference both to themselves and to others who may be on the peripheries. I'm now helping to run the programme!
Contact us on (04) 477-6827 or check out our website www.challenge2000.org.nz and apply for a great 2021.