WelCom November 2018:
Bridget Poutasi
Challenge 2000, a Youth and Community Development gospel agency based in the Archdiocese of Wellington, celebrated its 30th birthday over Labour weekend 2018. Overall, 800 people attended the weekend's events, coming from all over Wellington and New Zealand including Dunedin, Christchurch, Auckland, Whakatane, Manawatu, Wairarapa and New Plymouth, and from Australia and Fiji.
Celebrations began with the premiere of a documentary tracing Challenge's history through the eyes of people who have served and were served. Watching this moving story on the big screen left not too many dry eyes at the Embassy Theatre on the Friday evening!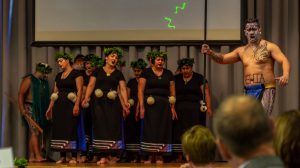 Saturday included a family-fun morning with animal rides, face painting, rock painting, bubbles, magicians, games, a bouncy castle and a sports' afternoon followed with games and a sausage sizzle. On Saturday evening, about 250 people gathered for an amazing celebratory birthday dinner with speeches and a performance by Challenge's kapa haka group. The group made a huge impact on the guests with a powerful bracket of waiata and haka. Our Samoan aiga also performed, as did young people from one of our Youth Houses.
A Thanksgiving Liturgy on Sunday, including whānau Baptisms, was held at Marist Challenge Centre in Johnsonville, followed by a picnic. Amidst much talk and laughter visitors reminisced about the past sharing stories of both pain and successes.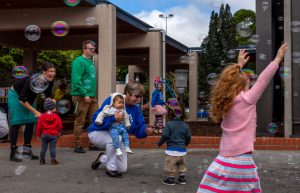 Many more members of the Challenge whānau, now scattered around the world, also sent messages of love, appreciation and commitment to the dream of Challenge 2000. What a weekend of life, hope, justice and whānau.
"The dinner celebration was a wonderful and inspirational example of our church in action. People from all sectors of our community and many different cultures gathered to celebrate 30 years of service, love and hope. I thoroughly enjoyed it." – Cardinal John Dew
"It was like being part of one big family at a reunion. It was wonderful to see staff and volunteers who used to work at Challenge." – Vicky O'Hagan
"The weekend was absolutely wonderful, right from the word go with people of all cultures mixing and celebrating together. The Liturgy was so moving; even all the children paid attention and were drawn
to it." – Sr Connie Hurley rndm
"Thank you Kitty and the Challenge 2000 whānau for what you do. For changing lives and leading a movement that is based on the gospel to love our neighbour. We loved celebrating with you all this weekend." – Matalena Leaupepe
"The kapa haka was amazing. I had goose bumps and felt really weird inside. Powerful. No words to describe the effect it had on me." – Luke Jones
"The whole weekend was inspirational and has re-energised me to return to my ministry in Fiji. Thank you Challenge for your generosity and willingness to serve others." – Fr Petero Matairatu sm
"Challenge is a place of deep connection, relationship and hard work. Love works and it is love that binds us together. In the words we sang at the Liturgy, it is, 'Love that changes everything and everyone'." – Kitty McKinley, Founder of Challenge 2000.