WelCom News
A newspaper for the Wellington and Palmerston North Catholic Dioceses
Inaugural Cardinal's Lunch
WelCom September 2018: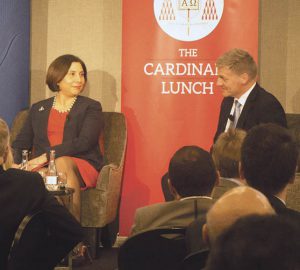 The first in a new series of lunches hosted by Cardinal John Dew to provide opportunities for people to come together at a luncheon, was held in Wellington on Wednesday 8 August. Guest speakers were Sir Bill and Lady Mary English. The lunch was sponsored by Forsyth Barr.
The initiative aims to provide networking opportunities for practising and retired professionals to connect with Church leadership and to hear from dynamic leaders.
Welcoming the 200 guests Cardinal John said, 'In launching this lunch today, we are acting upon an initiative of the Synod to find and empower future leaders in the Church. As Catholics we grow our faith by pursuing holiness in our everyday lives and in leading others to do the same.
'Bill and Mary, thank you for being with us today. I am grateful you have come to share your story with us, not only because of your extraordinary life in the public, but to hear more about how you dedicated your work and family life to your faith and raised six wonderful children.'
Sir Bill and Lady Mary spoke about their faith-based professional and family life. They gave messages of hope, particularly to young people saying, 'rather than feeding into young people's anxieties we should be encouraging them with optimism and reminding them things have never been better for young people in this country'.
Cardinal John said he envisages the gathering to become a dynamic forum, welcoming people from all walks of life and backgrounds to engage in their faith journey and to encourage one another to extend their Catholic values in the workplace.