St Catherine's College wins O'Shea Shield for fourth consecutive year.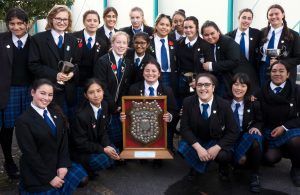 St Catherine's College Wellington has won the highly-prized O'Shea Shield competition for speech and drama for the fourth year in a row. Runners up were St Patrick's College Wellington.
This year's O'Shea Shield competition was held in New Plymouth over the weekend of 14‒15 May. Hosted by Sacred Heart Girls' College, the annual event featured the 17 Catholic Colleges from the Wellington and Palmerston Catholic Dioceses.