Kia tau te Rangimarie ki a koutou,

"Yes, it is true, the Lord has risen." Luke 24:34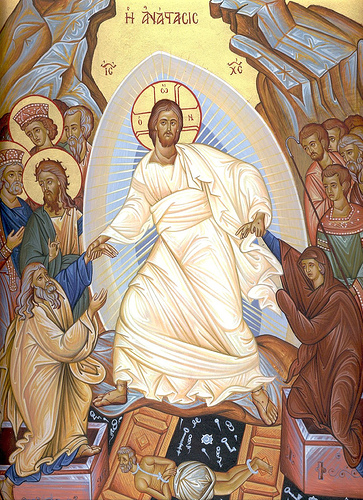 A few days ago, I read a wonderful reflection on Chapter 24 of Luke's Gospel, about the empty tomb, the angel's message, the road to Emmaus, Jesus appearing to the Apostles. As I reflected on it, I was struck by how like our current situation under lockdown these Gospel stories are. The writer spoke of Chapter 24 being like a symphony in 3 major movements.
"In the first movement of the empty tomb (verses 1-12) God breaks open a helpless and hopeless situation. Jesus comes forth from the tomb, death could not hold him captive. During this time of the Covid 19 pandemic Jesus continues to come forth into our lives too. In these days of anxiety, questioning and challenge are we seeing him? Are we recognising him?"
In the second movement of the symphony (verse 13-35) God, in the person of Jesus accompanies two men on their journey through a time of death and despair. For those two men Resurrection was no more than a tale or a rumour. Within them was a deep yearning and a holy hunger. Intimately intertwined with their scepticism is their hope, and their need for God to be alive, vibrant and present. At this stage of the pandemic we too have a deep yearning and a holy hunger for God's presence. God is present in so many other people around us.
In the third movement of the symphony we see Jesus among his disciples (verses 36-53), where he leads them into an experience of community. Easter 2020 has seen us experiencing our faith communities in very different ways. We may have thought that we were alone in our Lockdown bubbles and far away from our usual places of gathering as communities of faith. However, technology has enabled us to tune in to Masses and other ceremonies and in some ways brought us together. Many have discovered new ways of praying and reflecting on the Scriptures, families have been creative in praying grace and reflecting at the end of the day about where they have experienced the presence of Jesus among them. People have been helping one another, reaching out to those for whom the lockdown is very difficult as they struggle financially, or with helping children with schoolwork, or with overcrowded bubbles. Even during darkness and anxiety our gratitude has grown, and the grace of God's presence has been welcomed and treasured. Our communities have not abandoned us.
We are recognizing graced moments, for that we are grateful. As well as being grateful we can be like those first disciples, we can tell our stores about God's presence in our lives during Covid 19. Our challenge is always to be witnesses to the Good News of God's love. Maybe someone will write about us and say, "then they told their story about what had happened and how they recognized him……." Luke 24: 35
With every blessing
Naku noa
+ John