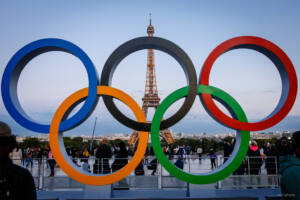 WelCom June/July 2023
Pope Francis has expressed the hope that the 2024 Olympic Games in France will be an opportunity for 'an authentic impulse of fraternity which the world needs so badly'.
May the Olympics be 'an occasion for profound and fruitful encounter between people from all walks of life, belonging to different peoples, cultures, and religions,' the Pope said in a message addressed to Catholics in France ahead of the 2024 games.
France is to host the 33rd Olympic Games 26 July to 11 August 2024, in Paris and 16 other cities across France and Tahiti, an island within French Polynesia.
Pope Francis urged French Catholics to get involved in the sporting event and ensure that it be a 'joy to welcome the whole world' to France, as well as a 'responsibility.'
'You will be invited to become volunteers, to open your churches, schools, and homes,' said Pope Francis. 'Above all, open your hearts… By the gratuitousness and generosity of your welcome and dedication, you will bear witness to Christ who lives in you and who shares His joy with you.'
Pope Francis also called on Catholics in France to find ways to help integrate 'people with disabilities and the poor and marginalised into this beautiful festival of sport.'
France will also be hosting its first-ever Summer Paralympic Games in 2024 in Paris from 28 August to 8 September 2024.
Source: La Croix International