WelCom August 2020
Sr Alisi Tu'ipulotu and Sr Sosefina Mafi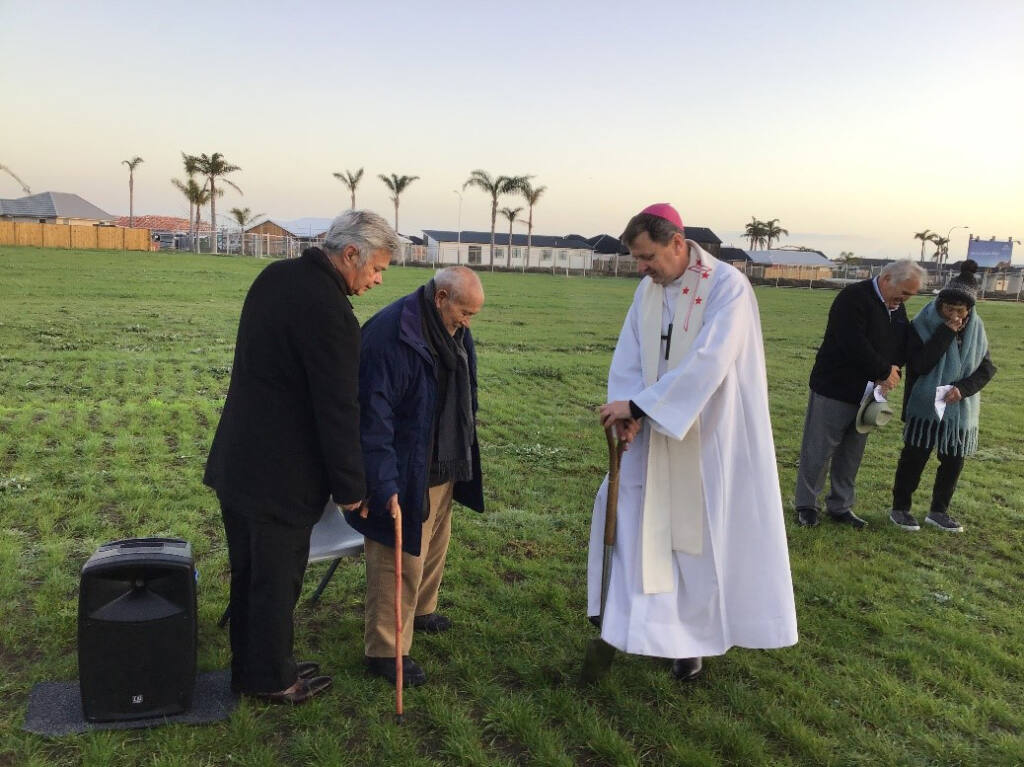 History has been made for the Sisters of Compassion with a brand-new school to be named after our mother foundress – the Suzanne Aubert Papamoa Catholic Primary School. The land on which it is to be built is in Golden Sands, Papamoa Beach, Bay of Plenty.
When our congregational leader Sr Margaret-Anne Mills asked us to represent the congregation and travel from Wellington for the traditional ceremony of the 'Turning of the Sod', to mark the start of the building process at the Papamoa site on 29 June, we felt very privileged to go.
Monday morning was cold and damp but the warm welcome from Bishop Steve Lowe, Bishop of Hamilton, along with founding principal Anthony Mills, school board secretary Monique and Turi Ngatai and the Ngāi te Rangi local iwi, really warmed our hearts.
Standing together during the ceremony with guests including local MP Todd Muller, government officials and the school community, we were assured of how well supported and special this school will be in the community.
Kaumatua Turi Ngatai's welcome speech connected the Whanganui River, Tautoko (Levin) and Island Bay with Papamoa. Korty Wilson, Kaiwhakarite Māori Apostolate, Diocese of Palmerston North, brought water from the Whanganui River, which Bishop Lowe sprinkled on the turned sod.
Blessing the sod Bishop Lowe said, 'it is not turning the sod but for the children to be rooted in the whenua that is important. It's the weaving together of the story of local iwi but also the weaving of Suzanne's faith that she brought to our country.
Sharing a brief history of Venerable Suzanne Aubert's journey from France to Aotearoa, Bishop Lowe said, 'Suzanne Aubert was a short lady with a heart of fire for the Māori and children. This is important with the school being under her patronage. Suzanne Aubert had a great love for Māori and we want that great love to be in our school.
We then gathered to share food and refreshments at St Thomas More Church Parish Centre in nearby Mt Maunganui. The board chair expressed the new school community's gratitude to us for travelling from Wellington to be at the ceremony and especially for our prayers and support.
In our reply speech we assured Anthony Mills, the board and community of our continuous prayers and support. We concluded with the song of Suzanne Aubert.
At Papamoa we experienced Suzanne Aubert's spirit of compassion already in the community and our wish is that it will continue to flourish.
Suzanne Aubert, founded the Sisters of Compassion in 1892, and is known for her love of the people, especially the children, parents and young mothers. That's her passion for every walk of life.