WelCom December 2021
The Solemnity of the Immaculate Conception, 8 December, is the patronal feast of the Archdiocese of Wellington. This article is an abridged version of a presentation about Mary Dr Elizabeth Julian rsm gave this year after Choral Evenson in St Paul's Anglican Cathedral, Wellington,on the feast of the Annunciation, 25 March.
---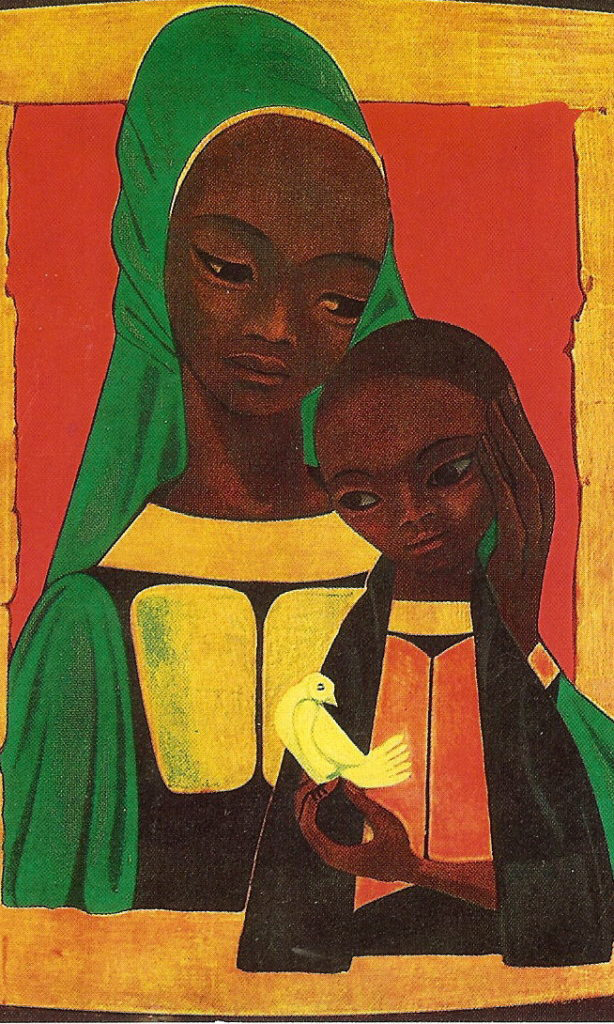 Why is this woman, Mary, Jesus' mother held in such regard? Why do Catholics pray to her when Scripture tells us there is only one mediator between us and God, that is, Jesus Christ (1 Tm 2:5-6)? In fact, Pope Francis reminded Catholics once again (24 March 2021) there is only one mediator, saying, 'Christ is the mediator par excellence,' the 'bridge that we cross to turn to the Father,' and the only redeemer: 'Every prayer we give to God is for Christ, with Christ and through Christ, and are realised through his intercession. There is no other name by which we can be saved.'
To understand why Catholics pray the Hail Mary and by extension the Rosary, which consists of 50 Hail Marys, we have to understand the very beautiful and consoling doctrine we call the Communion of Saints – that bond of friendship between all the baptised, living and dead. This doctrine teaches us that those who are dead are still united with us in Christ, they are our ancestors in faith. Just as we may honour the memory of dead family members and friends, so too do we honour Mary and the saints who are friends of God.
Just how do we do this? We allow their lives of faith to inspire us today and we try to imitate them in their commitment to follow Christ. We thank God for their example, and we praise God in their company during every Eucharist. However, we also invoke their intercession. What exactly does this mean? Does it mean that if we pester them enough and promise to say a certain number of prayers, they can somehow twist God's arm for us? Does it mean that we can get special graces and favours from them?
Will St Anthony find my lost keys? Furthermore, does it mean that we can't pray to God ourselves?
No, it means rather that we ask Mary and the saints to pray to God for us.
Now, we can all recall times when we have asked family and friends to pray for us or for a particular intention and have been quite comfortable in doing so. Because of the Communion of Saints then, the same principle is at work when we invoke Mary's intercession. We are not praying to her in the same way we pray to God. We are asking her as our friend and God's friend to take our needs to God.
What millions of Catholics have done for centuries in times of crisis, [is to] say the Rosary. When my mother died suddenly 50 years ago, we took our rosary beads off the hook on the lounge wall and one of my brothers began to lead us in the familiar words of the prayer. The Rosary is like 'comfort food' – familiar and satisfying nourishment for stressful times. There's a certain 'rosary rhythm' that carries the prayer along automatically and effortlessly. It has a contemplative dimension and a mantra-like rhythm. Telling or counting your beads while praying the Rosary is something to do when your world is suddenly falling apart.
So, in celebrating this feast of the Annunciation we honour Mary by trying to imitate her life of faith, thanking God for her, praising God in her company and asking her to pray to God for us.
It's helpful to keep in mind an old Irish picture. In it, Mary is pointing to her son but looking at the viewer while saying, 'This is my son and I'm his mother but he's the one you'll be wanting at the last.' The picture illustrates Catholic teaching about Mary in a nutshell. Everything the Church says about Mary ultimately points to Christ.
So what do we actually know about Mary?
Most scholars would agree there are only four facts, which we can know about Mary with historical certainty:
1. She was a first-century Jewish woman named Miriam who lived in the Mediterranean rural village of Nazareth as the wife of the local carpenter.
2. She was the mother of Jesus.
3. At some point in the ministry of Jesus she was without understanding.
4. She was a member of the early Christian community in Jerusalem.
It's really not much is it? However, it would be reasonable to assume that since she was a Jewish woman, her life would have been centred on the home. She was probably illiterate but would have known the Hebrew stories and prayers. As a mother she would have influenced and shaped her son in many ways, for example, the ease with which he related to women.
What then do Catholics actually believe about Mary?
Catholics believe four things about Mary. They are dogmas of our faith, which means they are very important. We believe Mary was conceived immaculately, that she is God's mother, that she was always a Virgin and that at the end of her life she was assumed into heaven body and soul. So, at the beginning and end of her life she was surrounded by grace. The angel Gabriel's greeting in the gospel account of the feast of the Annunciation acknowledges, this grace: 'Rejoice, highly favoured one' or 'Hail, full of grace.' And with the addition of Mary's name, we find this greeting in the Hail Mary, 'Hail Mary full of grace, the Lord is with you'.
So, in response to Mary's saying 'yes' to God, how do we imitate this woman who was always full to the brim with grace? Perhaps when an angel from God knocks on the window of our heart asking something totally incomprehensible, dauntingly challenging or unimaginably terrifying of us, something which reminds us of our responsibility to bring Christ to birth wherever we are, we could say to the angel with Mary's conviction, and in the words of the singer John Bell, 'Tell God I say yes.'