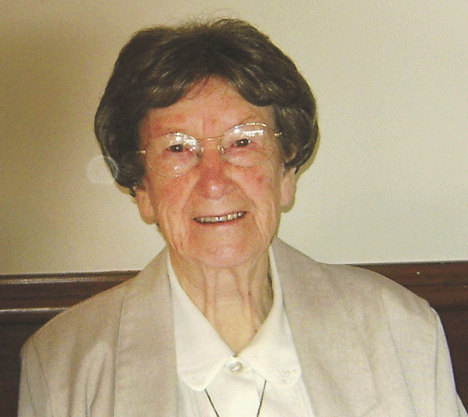 Obituary
Eileen Brosnahan rsm
Ninety-nine years of life, seventy-five of them as a Sister of Mercy, were celebrated in a thanksgiving liturgy in St Joseph's Convent Chapel Upper Hutt on 22 April when Sisters of Mercy, many family members and friends gathered to rejoice in the life and death of Sister Mary Theodore Harrington.
Born in Brooklyn in 1913, Eileen Harrington was the third of the eight children of Agnes and Patrick Harrington who had migrated from Australia to make their family home in Wellington.
Her school life began at the Sisters of Mercy school in Boulcott Street which six months later became St Joseph's School in Buckle St. Her later education included shorthand, typing and book keeping. When her father died in 1929, Eileen took an office position in the company Home Supplies later working for Woolworths and the Hereford Printing Company.
The faith-filled nature of the Harrington home prompted daughter Catherine and six months later Eileen to consider becoming religious sisters. Because the Sisters of Mercy had been inspirational in their lives they both chose in 1934 to enter the Convent of the Sisters of Mercy in Thorndon. The family was filled with sorrow when Catherine died five weeks after Eileen had joined her.
When Eileen made her first Profession of Religious Vows in 1938 she took the name Sister Mary Theodore. The motto she chose 'God alone' certainly became the focus of her life as God was truly at the centre of her apostolic ministry which flowed from her presence with God in prayer.
Sister Theodore taught in several Catholic primary schools in Wellington as well as in Upper Hutt, Picton, Reefton and Blenheim. She had a great love for teaching, delighting in seeing her pupils improve and gain a sense of achievement. They were always aware that she cared about them and was really interested in each of them as individuals.
After these fruitful years of teaching, time came for Theodore's retirement. The O'Connor Home in Westport was her next home – not as a resident but responsible for the laundry. After five years she moved to Blenheim to visit the elderly and sick in the district followed by residence in Villa Joseph Upper Hutt and Home of Compassion in Silverstream.
The bonds with her family remained strong. Each of her brothers and sisters and their extended families had a special place in her heart and prayer. Keeping in touch was important for her as well as rejoicing in their achievements.
During her long life Theodore kept in touch with many friends. Highly gifted, she loved music, reading, sewing, knitting and bird watching.
This gentle woman who gave her life and talents to God will be sorely missed by her family, her Sisters in Community and by all who knew her.
Her wisdom, knowledge, calm thoughtfulness and loving understanding have been an inspiration to all.