NEWS
7 February 2011
After nearly 23 years as director of Challenge 2000, founder Kitty McKinley is stepping aside for social worker Bridget Roche who's been working with the organisation for the past three years.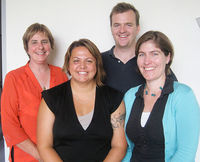 The board of Challenge has been developing a succession plan for the past 18 months to enable Kitty to continue in her mentoring role while handing over the administration to a team.
Challenge announced in its Christmas newsletter that Bridget would be supported by a management team of Tina May Wilkins as manager of social work and youth development, business manager James van Schie and Sr Judith McGinley as guardian of the Challenge charism. This team will take over at the end of February. Kitty will continue as a trustee and mentor to the people of Challenge.
'My commitment to the dream of the gospel and Challenge 2000 is well and truly alive. I will work to do my bit to ensure that this great country becomes a place where the personal dignity of every human being is recognised and supported, where we all accept our social responsibility to care for our fellow citizens and where our systems and policies are based on the principles of social justice.'
She quotes anthropologist Margaret Mead, 'Never doubt that a small group of thoughtful, committed citizens can change the world. Indeed, it is the only thing that ever has.'
Image: Kitty McKinley with Challenge 2000's new management team Tina May Wilkins, James van Schie and Bridget Roche.