Palmerston North
Sue Seconi
3 February 2013
Two priests in the Palmerston North Diocese have swapped parishes.
Monsignor David Bell left his post of 10 years as parish priest of St Mary's Whanganui on 25 November and Fr Brian Carmine relinquished his post as parish priest in Stratford.
Mgr Bell told the 500 squeezed into St Mary's to say goodbye that bringing the urban marae, St Joseph's Hall, church and administration area, under the one roof was one of his most satisfying achievements.
He also spoke of his devotion to rugby. He had referreed matches and coached referees. He was also on the Board of the Whanganui Rugby Union representing the Council of Clubs.
Meanwhile, a fortnight later the church was again packed as Kaumatua Bill Murray welcomed new parish priest Fr Brian Carmine.
'We give thanks to God for Fr Brian being here today,' said Mr Murray.
Fr Brian entered the church supported by his family and members of the Immaculate Conception Parish in Stratford.
Not long after his ordination in 2000 in his hometown of New Plymouth, Fr Brian served in Whanganui for several years.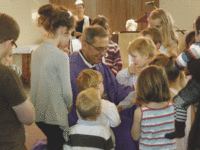 Returning now as parish priest, he said he was looking forward to walking with everyone and sharing the faith together.
Image: Fr Brian Carmine, the new parish priest at St Mary's Whanganui, blesses the children at his first Mass there on 9 December 2012.