Schools
15 June 2011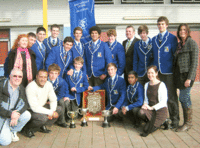 St Patrick's College Wellington won the O'Shea Shield with a convincing three-point lead over runners-up St Catherine's College and Sacred Heart New Plymouth on May 14-15.
As Tom Kelly of St Peter's, Palmerston North described the O'Shea experience, 'Imagine the comradeship you feel when you're hanging out with your friends, the respect you have for someone who is an expert at something you wish you could do, the nervousness and then relief when you have a huge task to achieve. Multiply these feelings by more than 9000 and you have O'Shea Shield.
Though winning is not a priority, 'To win, but not have a good time would be a tragedy'. But, he says, 'Don't assume that O'Shea is all fun and games. The preparation, like the competition, is intense because no one wants to make a fool of themselves in front of the others.
'I warn you, O'Shea is not for everyone. It is a melting pot of socialising, inside jokes, extreme preparation, every emotion you can possibly feel, delicious food and long journeys.'
The preparation for O'Shea is gruelling to say the least, say Annie Benefield and Delilah McIntyre of Cullinane College.
'Weeks of late nights studying and stressful practices become the norm. Everything else is put on hold.
'On the day of the events, stress levels are at the max. It feels like all those last minute cram sessions aren't enough and panic starts to set in. It's not so much about personal failure – we're more worried about letting the team down because the team is a big part of O'Shea. It comprises students from every year, often people you don't know very well. But at the end of a seven-hour journey and a weekend together you really start to bond. You don't want to let these people down, but at the same time you know they're in the same boat.
'Once our event is over, we are able to support the rest of our team, letting them know we've got them if they fall. With the themes of religion, support, friendship, competition, enjoyment and fun all so neatly intertwined, it's one heck of a weekend.'
Lucho Arca of St Patrick's College, Wellington, admits to applying a 'whole bottle of Rescue Remedy' to the pressure of preparation.
'Winning the Shield was indescribable. The standing ovation from the rest of the competitors and haka from Silverstream was humbling.'
One of the really special things about O'Shea, for Zared Wall-Manning of St Pat's Kilbirnie, was 'being able to watch my peers and friends doing what they do best and it was a great reminder of how talented so many of the guys are'.Zared competed in the impromptu speaking section and said, after a nerve-wracking speech, 'whatever the result, I was confident I had given it my best shot'.
Laila Ben-Brahim of St Catherine's, runners up for the second year in a row, wrote, 'Not only does the O'Shea Shield produce great competition for us in all areas, but it's also a time for our schools to bond. During the preparation, everyone in our team grew closer and it enhanced the St Catherine's College spirit that we brought with us. The weekend produced amazing achievements, great memories, lots of laughs, new friendships and unforgettable experiences.
Chanel College started out from Masterton with a slight deficit – one of their team, Jeremy, had broken his nose and the hospital advised against the trip. 'But a later text announced his arrival.
'We all understood why Jeremy did this,' say college leaders Paul Eastwood and Kate Jolliffe, 'because O'Shea Shield is a unique experience leaving competitors with valued memories and friends. It elevates school pride and even though we are a small school, we always go to compete fiercely and do our school proud.