Features
Mike Kelly
2 February 2013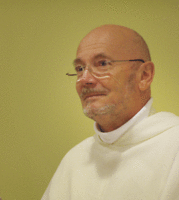 The mission of lay people in the Church will be centre stage when the Dominican Order's promoter for the laity Fr David Kammler visits Palmerston North and Wellington next month.
Since 2008 the lay Dominican movement in New Zealand has been growing steadily and forging links with the Dominican friars and sisters. But this is the first time the Order's international office has chosen to recognise the lay fraternity in New Zealand with a visit by the promoter as the Dominicans celebrate 800 years since the founding of their Order.
Fr David is German-born, but is currently based in Rome. However, he spends most of his time visiting lay groups around the world.
He is hardly a tourist, though – he has made it plain that in New Zealand he wants to talk with people, not take guided tours! And since this is his last year in the position of promoter, he will bring with him a depth of wisdom and observation to share with us.
Besides visiting lay Dominican groups from Auckland to Invercargill, he will meet with a wider lay gathering in several places.
For lay Catholics, in 2013, this is an important opportunity to respond to the many calls that are made to us: the Year of Faith, the 50th anniversary of Vatican II, the New Evangelisation that invites us to be present and of presence in the 'courtyard of the gentiles'.
In his role of 'Promoter for the Laity', Fr David has an important message for us. But he stresses that he wants to listen to people rather than lecture.
Everyone is invited to meet and talk with Fr David:
in Palmerston North on Monday 4 March 2013, 5pm to 9pm in the Diocesan Centre. Fr David's talk will be followed by dinner and dialogue.
in Wellington on Wednesday 6 March for a 7pm to 9pm talk and dialogue in Connolly Hall, Guildford Terrace, Thorndon.