28 January 1970–1 October 2022
Pā Piripi Cody
Sam (Hami) Doyle died on 1 October 2022 aged 52. Far too young! But he packed a lot into his life.
Born in Ōtaki in a family of four, to Bill and Kath Doyle, he could truly be called a 'son of Ōtaki'. After schooling there, and at Hato Pāora College, Feilding, he joined the Navy for several years. There he began to enjoy rugby, which formed a large part of his life, playing and coaching such as with the Rahui Ōtaki club.
His key position was full back. No. 15. Fast and intelligent. The secret of his side-step was revealed in that he learnt moving swiftly when he'd been playing up and his Mum took after him with the broom!
Playing for various clubs, Sam was then selected for the Māori All Blacks and the Hurricanes.
Education was a big aspect of his gift to us. Starting at the Kura Māori o Porirua, he was one of the early principals for Māori immersion schools, Kura-a-iwi, in Ōtaki, at primary and secondary level.
Perhaps a key mark was his embracing the depth of Māori spirituality and doing that in harmony with his Catholic belief.
Faith meant much to Sam and he led mihi and singing at Miha at Hāto Maria, Pukekaraka. That faith helped when he was diagnosed with leukaemia. Despite accepting a donor stem cell, the leukaemia returned. Sam never lost his trust and positive approach to life.
Then his family whom he loved dearly. Sam was a music man and composer. When each of his daughters were born he composed a waiata for them: Kara, Kotuku, Wikitoria and Raukawa.
That priority of whānau was illustrated in he and his family taking a final holiday together in the North. They will not forget the simple joy of sharing time together near the sea.
Just near his end he asked to visit Pukekaraka once more with his family and he did.
Nō reira. e Te Whaea o Pukekaraka, ngā whakamoemiti mō tēnei Taonga, ko Hami.
Me whai mātou i ōna tapuwae.
Mary of Pukekaraka, we are grateful for Sam's life among us.
May we follow in his footsteps.
With permission of the whānau.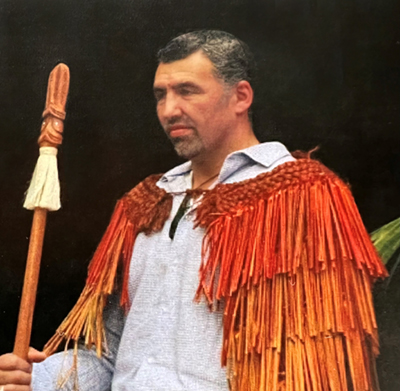 Sam Doyle – 28/01/70–01/10/22 – Kia hari i te oranga tonutanga. Enjoy eternal life. Photos: Supplied