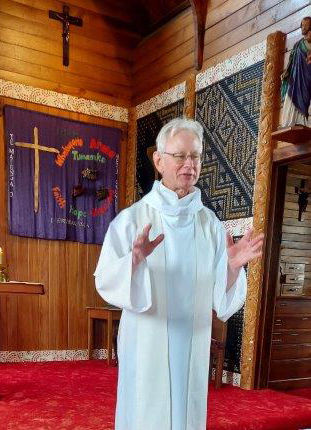 WelCom June/July 2021
Over 50 years ago, a young lad from a sheep farm in Colyton – in the Manawatū-Whanganui region – who had been a student at Francis Douglas Memorial College, was captivated by the life of a sixteenth century Spanish saint named Ignatius Loyola. As a result, he flew to Melbourne to begin his life with the Jesuits.
After priestly ordination in 1982, Fr Richard Shortall spent 15 years in parish ministry in Australia. He was then given a sabbatical that turned into gaining a MA in Christian Spirituality from Creighton, a Jesuit University in Omaha, Nebraska. This qualification enabled him to spend 10 years offering prayer days and directed retreats in rural dioceses of Victoria and New South Wales.
Richard was sent by his Jesuit Provincial in Melbourne to New Zealand in June 2018. At the request of Bishop Steve Lowe, he was to minister as an itinerant spiritual director and retreat director in the Hamilton Diocese. At the end of March 2020, Richard chose to remain in the Hamilton Diocese. 'I feared that if I did return to Australia, the emerging Covid-19 border restrictions would prevent me from coming back to this ministry in New Zealand,' Richard says.
"Imagine Jesus present before you…and begin to speak with him…as one friend speaks to another." – Spiritual Exercises of St Ignatius #53 and #54
Fortunately, with the help of his sister, Rosemary, he was able to celebrate his Golden Jubilee with a few others, including some FDMC classmates and local priests. Richard noted his had been the life of a slow learner. He recalled it was his belief he had reached the peak of his adult life only in 2016, when he traversed the rural diocese of Maitland-Newcastle, north of Sydney, in a motor home. Appointed by Pope Francis for the Jubilee Year of Mercy as one of his Missionaries of Mercy, Richard became known as the 'MoM on wheels'.
'It was as if God had created me and then spent so many years preparing me for this work of listening compassionately to the pain of countless people. For that is how I spent that eventful year, sitting gently in the presence of those who had suffered all sorts of sexual and verbal abuse in their lives at the hands of people such as priests, religious and husbands.'
After struggling with the personal implications of the Covid-19 pandemic, Richard says he finds himself now in a state of peace and happiness knowing deeply this is where God wants him to be, ministering in the Church in the country of his birth among his whānau, which continues to embrace him with deep love.