In the past two months the Sisters of Our Lady of the Missions have launched their province history, Call to Mission: The Story of the Mission Sisters of Aotearoa New Zealand and Samoa 1865 − 2009 in parts of New Zealand where they have had a strong presence.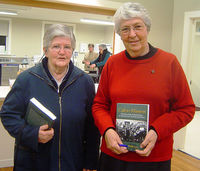 The history was written by Susan Smith, a Sister of the Congregation, who is currently an Adjunct Faculty Lecturer in theology at the University of Auckland and is involved in researching and writing the history of her religious congregation. She has also written Women in Mission, Orbis books, 2007.
Call to Mission tells of the first four Mission Sisters who journeyed from France to Napier, New Zealand, in 1865 and of the growth of the Congregation over the following century and a half. One hundred years later there were more than 300 Sisters in New Zealand and elsewhere.
The book launches in Auckland, Hamilton, Napier, New Plymouth, Nelson, Wellington and Christchurch drew Sisters, associates, friends, staff and pupils from schools and colleges that the Sisters founded and taught in over these 150 years.
Each gathering was a time of remembering and storytelling as the photos around the wall and the pages in the book brought back memories of past days.
There will be a more comprehensive review of Call to Mission in next month's Wel-com.