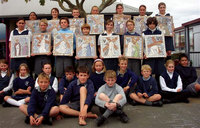 St Joseph's School, Waipukurau, took a fresh approach to Holy Week this year to bring Jesus' Passion alive for students and their families.
Each class was given a day in the week to represent in a presentation to the school on Holy Thursday.
There was a wonderful array of ideas from drama, readings and singing to a collection of artwork. Every child in the school took part in the presentation in the church.
DRS Mrs Kathy Forsyth managed the presentation. Pictured are some examples of what the senior class designed for their particular day, Good Friday.
The class had decided to start with the stations in the church. After studying each station and its importance, the students designed a static image of Good Friday in mosaics.
During the presentation, the students read and showed each station while asking those present to look into their hearts and find a way that they could live out each station themselves today.
The finished work will hopefully be displayed in the church.