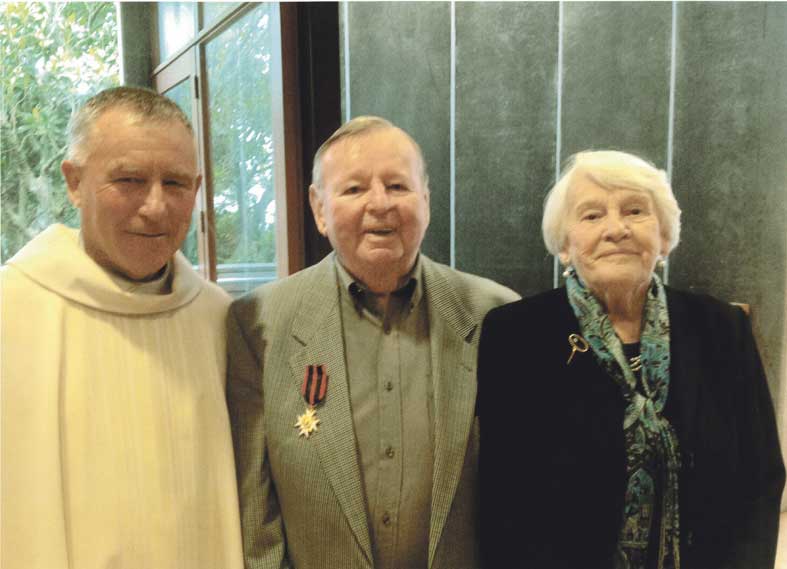 July 2014
News

Sr Catherine Hannan
An impressive ceremony was held during Mass on Sunday 4 May 2014 at St Joseph's, Mt Victoria, when Archbishop John Dew installed Mr Ronald Evans as a Papal Knight of the Order of St Sylvester. Archbishop John said many people wrote recommending Ron receive this award because of his many areas of service to the Church and society.
Ron and Pat have been married for 58 years and have a family of seven children, 17 grandchildren and three great grandchildren. They have lived lives of daily faithfulness and been very active in Mt Victoria Parish.
A highlight was leading the organising committee for the visit of Pope (now Saint) John Paul II in 1986: this included the Papal Mass with a congregation of about 25,000 people, and Pope John Paul's service of the Anointing of the Sick for 4000 sick and disabled persons and their helpers.
It was noted: 'When it became clear numbers were limited, Ron arranged for the Holy Father's motorcade to drive through the hospital grounds so more of the patients, staff and their families could receive John Paul's blessing.'
Ron played a key role in the building of the Catholic Centre in Hill Street. In addition he gave advice on property development to the Archdiocese of Suva and several religious congregations, helping them establish trust boards and boards of management to respond to rapidly changing contexts of ministry.
As well as being chair of the Night Shelter, the Catholic Homes Trust and the Catholic Foundation, Ron chaired several sports clubs including Marist St Pat's Rugby Club, which he saw as a great venue for young men to meet, form friendships and use their energies in a healthy way.
However, he resigned from the club in 1981 to support the NZ Bishops' position, publicly opposing the racially-segregated rugby tour from South Africa.
In all the above, Pat has given Ron her continued encouragement and support.