Features
29 November 2012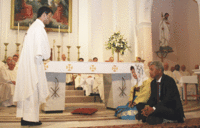 Andrew Kim Inseok was ordained to the priesthood on November 9 in a moving ceremony in the Cathedral of the Sacred Heart, Thorndon that included music and song from his Korean culture.
Fr Andrew has been serving in Heretaunga and Stokes Valley parishes since February 2011.
He was ordained deacon in April 2012.
His journey towards priestly ordination began 20 years ago in Korea.
In 2009 Andrew offered himself to Archbishop John Dew for ministry in the archdiocese and completed his studies at Holy Cross Seminary Auckland.
Fr Alan Roberts, who guided his entry into the archdiocese when he was parish priest of St Mary's, Blenheim, presented Deacon Andrew to the archbishop for ordination.
Fr Alan is now on the seminary staff and represented the rector in this traditional role of speaking on behalf of the candidate.
The cathedral was packed for the occasion and the cathedral parish hosted a light supper afterwards.
Fifty-four priests participated showing the joy with which this first ordination for the archdiocese in seven years was received.
Fr David Dowling, in whose care Deacon Andrew was introduced to pastoral ministry, completed his mentoring task by investing the newly ordained with his priestly vestments.
The congregation were moved when, at the end of Mass, Fr Andrew sought the blessing
of his parents who had made the trip from Korea to be at his side.
Images: Andrew Kim Inseok prostrating himself in front of his parents after his ordination to priesthood on November 9.
The Korean choir singing at the ordination of Andrew Kim Inseok in Sacred Heart Cathedral on November 9.