NEWS
Cecily McNeill
7 February 2011
Challenge 2000 has opened a second House of Hospitality this time in Johnsonville to complement the youth house that has been open for three years on the south side of the city.
The new house will operate along similar lines with a core group of residents offering hospitality to those young people who need a temporary alternative.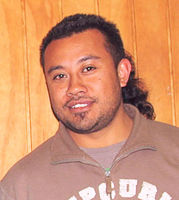 Felise So'oa who has run the Lyall Bay house for the past year with the help of the Society of Mary says Challenge principles of respect for oneself and for others, respect for the place, personal dignity, social justice and social responsibility are paramount. Everyone who comes to the house is expected to honour these principles.
He says teens who are struggling at school drop in as well as some older people.
'A lot of people come in the evenings. We have a pool table there at the moment which is a good way to get alongside people.'
The house of hospitality is about a group of young people wanting a bit more than just to be in a flat. So they devise various projects during the year which bring them together, such as youth masses and fundraisers for Challenge.
'In terms of supporting people who need it, we have a hui every week to see where people are at and we have times to reflect on what is happening.'
The youth house is also a good way of helping people prepare to go flatting. They feel the support of the entire Challenge organisation including mentors.
Felise became involved with Challenge through a confirmation programme the organisation ran in St Anne's Parish, Newtown. His contact with Challenge grew towards the end of his schooling.
As a teenager I went through all the usual difficulties that teens experience. Kitty and Helen (Robinson, now in Auckland) gave me heaps of support. They were really there for me.
'Kitty would tell me what she disliked about how I was doing things which I found really helpful. Kitty would always say how it was.
'It took Kitty a while to understand but she was always willing to listen.'
'Kitty always pushes for what is right. Even if it's hard she'll always keep pushing for it. She never gives up.'
Felise sees Kitty's great strength as being able to put the decisions back on the young people and talk them through issues rather than rushing into things.
Felise was working at Challenge college for about three years with Sr Judith McGinley and Jeff Rahari.
He is looking forward to the second House of Hospitality getting underway in Johnsonville.
'Hannah and James have an awesome background in the church.'
Felise stresses the importance of the link Challenge 2000 has with the Marist Community. Marist friends take formal and informal roles in the organisation.