WelCom July 2018:
'Our lives are actually a pilgrimage where we are'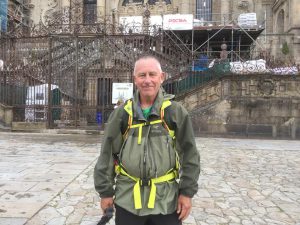 Cardinal John Dew, Archbishop of Wellington
WelCom readers may be familiar with the fact that I recently completed the Portuguese Camino, a pilgrimage walk of just over 700km from the Cathedral in Lisbon, Portugal, to the Cathedral in Santiago de Compostella in Spain. I walked it in 25 days. Tradition tells us it was this route in Portugal that St James (Sant Iago) first preached the message of Jesus to the people of the day; and that along part of the same route his body would eventually be taken to a place that has become one of the best known and walked to places in the world.
My reason for making this pilgrimage was to pray especially for vocations to the priesthood for the Archdiocese of Wellington. But I also kept in mind we need many other ways to help one another to discern and respond to what it is God is calling us to.
In 2010 I walked the French Camino. I prayed along the way and at the tomb of St James for the same intention. While praying for vocations was again my intention, a pilgrimage like this is also an intense spiritual experience. I learned many lessons along the way, which relate to everyday living and responding to everyday challenges.
The guidebook I carried had information for each stage of the pilgrimage, and every day two reflections for one's own thought and meditation.
One reflection was called 'The Mystical Path', the other 'The Practical Path'. The Mystical Path message for my first day was: 'Everyone is a child of the One God and to look on another with the vision of Christ is to recognise one's true Self in reflection. The eye with which I see God, is the same eye with which God sees me' – Meister Eckhart.
These Mystical Path messages were very helpful and provided much reflection material for each day's walking.
I was acutely aware, however, that a walk-through Portugal and Spain to the tomb of an apostle (St James) is obviously not possible for everyone. I am very aware I am incredibly privileged to have been able to embark on this recent adventure. It was a walk filled with many blessings; many hours each day to pray and reflect; people from all over the world – I walked alone but met them along the paths and in the evenings; beautiful and spectacular scenery; hot sunny days and fantastic food and wine.
Eight years ago some other Kiwis, who had completed the French Camino, had told me they had chosen Saints to accompany them. I was very impressed with that idea and I did the same on my walk. I chose mostly the same Saints this time too. So, every day as I started my walking, I asked the assistance and company of the Saints I had chosen as my companions – Mary and Joseph, St Paul, St James (because of going to Sant Iago), St Anthony of Lisbon (or Padua), St Catherine of Sienna and St Mary Mackillop. There were many times when I reflected on how much they all walked in their lives and what lessons I could learn from them.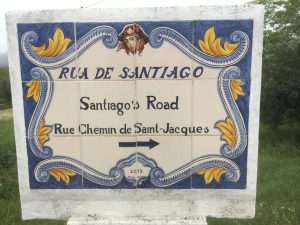 There were two Scripture quotes I reflected on every day: Remain in my love (John 15:9) and 'The Lord delights in his people' (Psalm 149:4). It was a blessing to be able to 'remain' in God's love and to know that God was enjoying and delighting in this too.
Many times, as I walked along I sang – and I am not a singer – the Taizé Magnificat and the hymn Gentle as Silence. It is such a simple hymn and has such profound words.
Oh, the love of my Lord is the essence of all that I love here on earth.
All the beauty I see God has given to me, and the giving is gentle as silence.
Every day, every hour, every moment have been blessed by the strength of God's love.
At the turn of each tide God is there at my side, with a touch that is gentle as silence.
There've been times when I've turned from your presence, and I've walked other paths, other ways.
But I've called on your name in the dark of my shame, and your mercy was gentle as silence.
Day after day I experienced the gentle generous giving of God – and thought of what we have been saying here in the Archdiocese in terms of Stewardship about receiving the gifts of God with gratitude and using them responsibly. I had the opportunity in the silence of my walking to discover anew that 'every day, every hour, every moment' were blessed by the strength of God's love.
I happened to arrive at my destination, the tomb of St James, on 31 May, the Feast of the Visitation, which was also the 23rd anniversary of my ordination as bishop. At my ordination in 1995, the Taizé Magnificat had been sung, so it was with an extra sense of gratitude I prayed with Mary as I arrived in Santiago, 'My soul proclaims the greatness of the Lord….for the Almighty has done great things for me….' (Luke 1: 46, 49).
"There are many ways to see that our life is a sacred journey.
A pilgrimage such as this is an incredible blessing, it's also great exercise. Not everyone is able to do what I was privileged to do. However, there are many ways to see that our life is a sacred journey. Within the busyness of our lives today we can be awakened to find the spiritual and find the meaning and relevance that is often lacking in our chaotic world.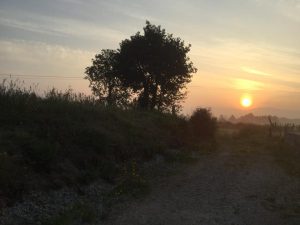 Wherever we are, whoever we are with, whatever we are doing, whatever time of the day or night it is, there are always opportunities for prayerful reflection. Without that prayerful reflection our lives will be meaningless and we risk the danger of being distracted and pre-occupied with all sorts of other things. In other words, our lives are actually a pilgrimage where we are.
"There are always opportunities for prayerful reflection.
A few weeks ago, Pope Francis wrote a wonderful document called Gaudete et Exsultate (REJOICE AND BE GLAD). It's all about being HOLY in the ordinary things of life: he wrote 'God wants us to be holy and not to settle for a bland and mediocre existence.' He also said he wanted 'to repropose the call to holiness in a practical way for our own time, with all its risks, challenges and opportunities.
'When, in God's presence, we examine our life's journey, no areas can be off limits. In all aspects of life we can continue to grow and offer something greater to God, even in those areas we find most difficult. We need, though, to ask the Holy Spirit to liberate us and to expel the fear that makes us ban him from certain parts of our lives. God asks everything of us, yet he also gives everything to us. He does not want to enter our lives to cripple or diminish them, but to bring them to fulfilment.' (G et E 175)
Our life's pilgrimage is a pilgrimage to holiness, it's a journey we are all called to make; and the wonderful thing is that in our families, schools, colleges and parishes, we can help one another to make that journey.
Photos: Cardinal John Dew