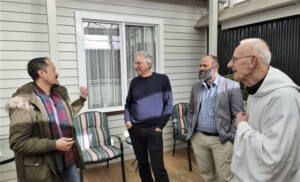 WelCom September 2023
Nick Polaschek
A group from Wellington's Abrahamic Council visited the Cistercian monastery at Kopua in Hawkes Bay for a weekend in May.
For some in the group, it was their second visit to Our Lady of the Southern Star Abbey, located in the rolling hills of Central Hawkes Bay. Members of the Council first visited two years ago and some were keen to return.
Ten people spent the weekend at the guesthouse, sharing the monastic environment and participating in the liturgies with the monks who live at the monastery.
The group spoke with Fr Nicho Verkley ocso, the senior monk, on the Sunday morning. Fr Nicho said hospitality to the guest is integral to the life of the Cistercian monastic community. 'They [guests] are to be welcomed as if they were Christ himself. The monastery is to be a spiritual sanctuary for all who come.'
Hospitality is foundational in all the Abrahamic traditions, with Abraham the first exemplar in providing hospitality for three strangers and thus the Lord himself.
As with their first visit to Kopua, the time the group spent in conversation provided an opportunity for sharing in a way we don't have in our normal schedule of meetings.
Members also had the opportunity to share a little of their own spiritual practice in the Jewish and Muslim traditions – an enriching experience for the others in the group. The devotional character of these practices, novel in this Christian environment, was striking. It complemented the experience of the monastic communal liturgy and the time spent sitting in silent meditation with the monks.
In practice and thinking, each of the Abrahamic faith traditions embodies an authentic response to the divine Word by the people living within it, made in terms of their own cultural framework. Recognising this, we can learn from one another about different aspects of our shared faith in God, our creator and sustainer. We come to appreciate more deeply we are all truly reflecting the divine Word in the different enculturated responses within our own traditions.