WelCom March 2021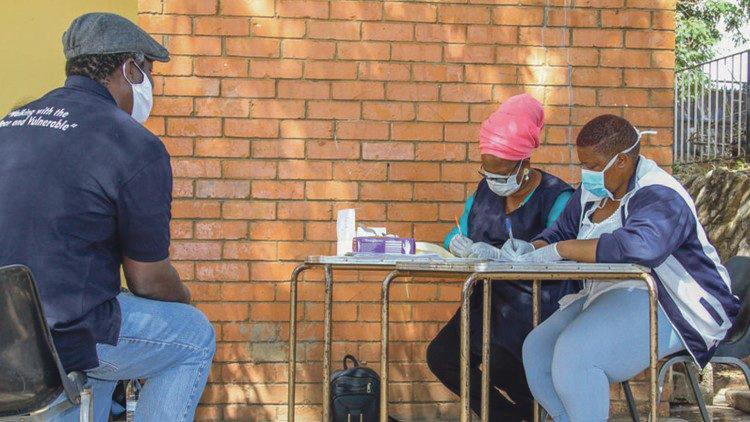 Several African countries are grappling with a deadly second wave of the Covid-19 virus being driven by a variant first identified in South Africa. There are fears the continent's health system, already beleaguered in many countries, could be overwhelmed.
Fr Charles Chilufya, the Coordinator of the Africa Task Force of the Vatican's Covid-19 Commission, has spoken of the concern of many African governments.
'Several African countries have reported a further increase' [of the coronavirus] over the past month. The novelty of this second wave is that the virus 'has started to spread in densely populated areas,' Fr Chilufya said.
The Bishops of Zambia issued a statement, on 28 January, urging Zambians to unite and combat the devastating disease.
'It is clear the pandemic has spread to all parts of the country and is in our communities. As we fight against Covid-19, we urge all Zambians, regardless of their social, cultural, religious and political affiliation, to put aside their differences and unite for a common goal.'
Similarly, Tanzanian Bishops cautioned their compatriots about the 'new wave of coronavirus infections,' which have led to an increase in deaths. Our country is not an island… We must defend ourselves, take precautions, and cry out to God with all our might so that this scourge will not overtake us,' said the East African prelates.
In the first phase of the Covid-19 wave, African countries fared reasonably well in containing infections largely through stringent actions. However, observers say many African countries cannot afford to keep countries under lockdown for prolonged periods. Unfortunately, this could also mean that the virus spreads unrestrained.
Dr Matshidiso Moeti, the WHO Regional Director for Africa, says the Covid-19 variant, first identified in South Africa, is now driving the spread of infections on the continent.
A lack of vaccines is complicating an already difficult situation. The African Union has put together an African vaccine acquisition task team to source vaccine doses for the continent's 1.3 billion population. Amidst a fierce worldwide competition for vaccines and hoarding by some countries, it may be a long while before meaningful quantities of vaccines find their way to the continent's ordinary citizens.
Source: Vatican News