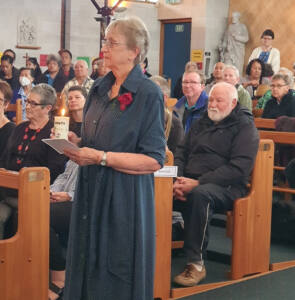 WelCom April 2023
Carmel Cole rndm
Sisters, family, friends and parishioners gathered on Sunday 8 January – the Feast of the Epiphany – in the Petone Church of the Sacred Heart, to celebrate with Sr Annette Young her 60 years of faithful service as a Sister of Our Lady of the Missions.
Annette was born and raised in Petone. She began her Religious Life as a teacher, teaching in Christchurch, Nelson, Kaikoura and Dannevirke. In 1985 she began teaching at
Sacred Heart School, Petone, and has lived in the area ever since. She has worked as an ESOL (English for Speakers of Other Languages) teacher and a parent educator with a focus on the Tokelauan community. In more recent years, Annette has been involved in the parish helping create community and support especially among the elderly members of the parish.
The Parish Mass was a multicultural experience, with hymns and the parts of the Mass sung in Māori, Samoan and Tokelauan as well as English. The Enthronement of the Word was enacted by the Samoan group, and the Tokelauan group preceded the Presentation of the Gifts with a paddle dance.
In his homily, Fr Bill Burt svd [Australian Province of the Divine Word Missionaries] reflected on the star the wise men followed to find Jesus. Sometimes in our lives, people are stars. They shine out for us showing us the right direction. Fr Bill pointed out that we can be grateful for Sr Annette being a star for many, many people. During her life of mission, she has led people and pointed the way to Jesus.
After Mass a celebratory cup of tea was held in the church foyer, followed by a light lunch in the convent next door for family and friends. There was much singing and storytelling as we continued to celebrate Annette's 60 years of service to God's people as a Sister of Our Lady of the Missions.