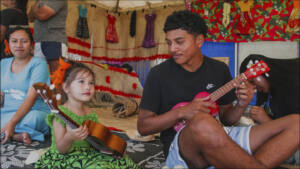 WelCom May 2023
Fale Pasifika Horowhenua held its annual Pasifika Celebration Day on Saturday, 11 March, at the Levin Domain. An estimated 4000 people enjoyed cultural performances from Fiji, Kiribati, Samoa and Tonga.
Local church groups put on spectacular performances, including Samoan AOG Levin Life Church, Samoan Methodist, Samoan Catholic Youth and Siasi 'o Tonga Tau'atāina.
The crowd also enjoyed performances by Taitoko School Poly Group and Horowhenua College's Loto Taha. Guest group, the Shades, wowed the crowd with their mix of opera, blended with Pacific songs and comedy.
A feature of the event was the interactive cultural village where people were able to watch a traditional ava ceremony, one of the most important customs of Samoa.
Fale Pasifika Horowhenua chairperson, Aleni Feagaiga was over the moon with the turnout saying 'we could not have had a better day, there were plenty of stalls offering a range of food and the performances were outstanding'.
The aim of the event is to share in Pacific Island culture, cultural identity and bringing cultures together'. Feagaiga said 'the family-friendly environment was one of connectedness showing a strong community. The happiness and smiles said it all'.
Source: Horowhenua Chronicle