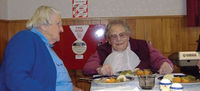 On a cold winter's morning in late July the Parish of Immaculate Conception, Stratford, invited Eltham parishioners to an anointing Mass followed by live entertainment and a roast dinner with all the trimmings.
It was a smacking success with 150 people at the Mass and anointing, and 89 staying on for dinner and the concert.
We had willing hands, in the kitchen, people carving the meat, others serving the veges. Students from St Joseph's School served the meal and took orders for tea and coffee. We had drivers picking people up who would not usually come, and coordinators promoting the event around the rest homes. We are already planning Anointing and Roast Meal Two later in the year.