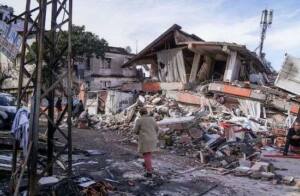 WelCom March 2023
The city of Antioch, where believers were first called Christians, has been all but wiped out by the February 6 earthquake that struck Turkey and Syria. 
The earthquake, which registered 7.8 magnitude, was the deadliest earthquake this century.
As the death toll passes 50,000 victims from the massive earthquake in Turkey and Syria, people in the Turkish city of Antioch – one of the oldest places connected with the spread of Christianity – are staring at a pile of rubble.
'Antioch is experiencing an enormous disaster,' Bishop Paolo Bizzeti said. The 75-year-old Jesuit is Apostolic Vicar of Anatolia.
Antioch's two Latin Rite priests are alive, as well as some 60 Catholic families, but about 70 per cent of the city was razed to the ground.
It is hard to imagine this ancient city in ruins, both for its inhabitants and for the country's Christians, who represent only 0.1 per cent of the Turkish population. In the first century, Antioch was home to St Paul and St Barnabas, who followed the call of Christ to evangelise the surrounding areas.
'Barnabas then left for Tarsus to look for Saul, and when he found him he brought him to Antioch. And it happened that they stayed together in that church a whole year, instructing a large number of people,' we read in the Acts of the Apostles.
'It was at Antioch that the disciples were first called "Christians". While they were there, some prophets came down to Antioch from Jerusalem, Acts tells us (11, 25-27).
'The Church as we know it today was born in Antioch,' noted Fr Jean-Marie Humeau, episcopal vicar of the Ordinariate for Eastern (Rite) Catholics in France. Indeed, along with Rome and Alexandria, Antioch was one of the first patriarchates established in the first century.
In the first century, Antioch was a place where Greeks and Syrians lived side-by-side. It quickly became the centre of Hellenistic Christianity, while turning towards the East. St Paul settled in Antioch for several years, using it as the base for his apostolic travels throughout the Mediterranean region.
Source: La Croix International