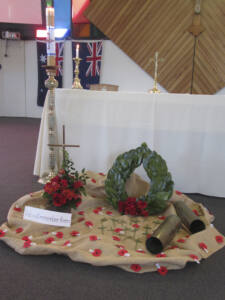 WelCom May 2023
Sue Seconi
There was a spirit of deep gratitude to all those killed in both World Wars when parishioners from the Catholic Parish of Whanganui – Te Parihi Katorika Ki Whanganui gathered around the altar to mark Anzac Day at morning Eucharist.
'Jesus was very clear in our role as Christians to actively seek peace, but as the lasting peace Jesus died for,' said homilist and celebrant Fr Craig Butler. 'And not to vaguely pray for peace, but to actively seek peace in our lives and when there is conflict, to seek reconciliation.'
The Ode of Remembrance, the Last Post and a minute's silence were deeply felt as we recalled our ancestors and others who never returned home, as well as military men and women currently deployed in conflicts around the world for peace's sake.