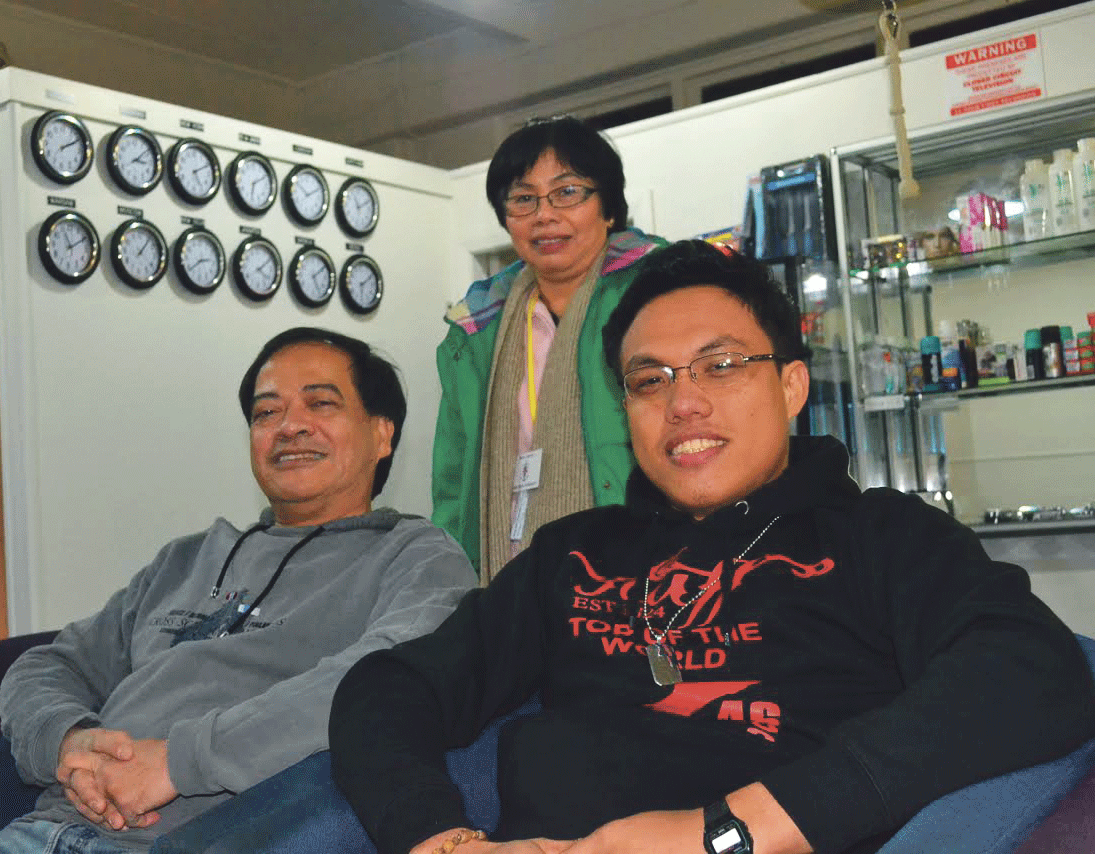 September 2014
Feature
Fr Kevin Head sm
The seafarers who bring goods to our ports are mostly unseen. We see the ships sail by … how often do we think about those who work on them?
Yet it's estimated at least 90 per cent of everything we use and wear comes to us by sea.
For the most part the women and men who work at sea are from poorer parts of the world and many work on ships primarily to make money to send home.
Eighty per cent of the estimated 1.2 to 1.5 million seafarers and fishing boat crews on nearly 100,000 ships are either Catholic or Eastern Orthodox.
They have a difficult and dangerous life. Apart from the constant discomfort at sea, there's danger from heavy machinery and from pirates.
They are away from family and friends, most are on nine-month contracts, and they are often lonely.
Most are in port for only a short while with not enough time to go into town.
That's where the Seafarers' Centre and the work of the Apostleship of the Sea (AoS) in New Zealand come into play. The AoS promotes the spiritual welfare of Catholic seafarers and the social welfare of all seafarers irrespective of nationality or belief.
The AoS also helps seafarers and fisherfolk, as well as port workers, cruise crew and passengers, to meet their basic needs at the Seafarers' Centre.
'They provide a safe haven when in port; communication with family and friends through emailing and Skype; recreation while ashore; a genuinely warm welcome; and a spiritual oasis.
The AoS provides active outreach in the ports of Auckland, Tauranga, Napier, Wellington and Timaru and works ecumenically with The Mission to Seafarers and the Sailors Society.
The AoS is under the sponsorship of the Bishop in each Diocese and is staffed by Catholic volunteers.
In Wellington, AoS has nine active volunteers. They provide a welcoming atmosphere at the Seafarers' Centre – Shed 51, Aotea Wharf, CentrePort – and work alongside the Mission to Seafarers (Anglican) and the International Seafarers' Society (ISS – all other non-conformist churches).
Because AoS volunteers are ministers who provide pastoral care to visitors at the Seafarers' Centre, initial and on-going training is required for those who undertake this official ministry of the Church.
If you wish to be involved, please email the National Director, Fr Jeff Drane sm, or call 027 492 0250.
Fr Kevin Head sm is the Apostleship of the Sea Catholic Chaplain, Wellington.
The Apostleship of the Sea – Stella Maris or Star of the Sea – was founded in Glasgow in the early 20th century. It provides pastoral care to seafarers through chaplaincies in ports in all continents of the world. In New Zealand, AoS provides a network of support. Internationally, the AoS is part of a network under the umbrella of the Pontifical Council for the Pastoral Care of Migrants and Itinerant People, a Council of the Roman Curia.