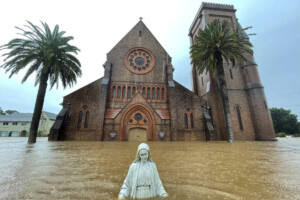 WelCom November 2022
The Archbishop of Canterbury has visited Lismore, New South Wales, which is still recovering from record flooding. He praised locals for their courage, loyalty and resilience in the face of disaster. The floods were the biggest in the region in living memory.
Justin Welby, the Anglican leader worldwide, walked Lismore's streets and also visited St Carthage's Catholic Cathedral – one of the many public buildings inundated by mud and water. He met with Lismore's Catholic bishop, Greg Homeming and chatted with locals still reeling after flooding in February and a second flood a month later.
He took time to praise the town's spirit, the efforts of rescue and recovery workers, and the massive clean-up operation.
Lismore's Catholic bishop, Greg Homeming warmly welcomed the visiting archbishop to his diocese. '
We stand together as bishops with a common experience of our Lord Jesus Christ, the one that we love, the one that we follow, but the one that we share our experience of with others,' Bishop Homeming said.
'And so I welcome you here. I thank you for being with us in our difficult times, and I hope and pray that the ecumenical spirit that you so wonderfully represent will continue and blossom and I think the foundation of the blossoming of ecumenism is indeed real friendship with Jesus Christ, which makes real friendship with each other.'
Source: Catholic Leader