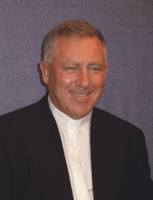 Columns
Archbishop John Dew
March 2013
'Each of us is willed, each of us is loved, each of us is necessary.'
Pope Benedict XVI's resignation took many of us by surprise, others said that they were not surprised at all, and some even spoke of his decision to resign as 'a noble and selfless decision', and acknowledged his role as an intellectual leader.
When Cardinal Joseph Ratzinger was elected in April 2005 there were many comments about the fact that he was a hardliner, a conservative and traditionalist. I remember saying to many people at the time that they just needed to wait and see and that they would soon see a cultured, affable and friendly man. In late June of that year, I was able to introduce four fellow New Zealanders to him. All commented on his warmth, friendliness and total attention to the person he was meeting. Whenever I met him whether as Cardinal prefect of the Congegation for the Doctrine of the Faith or as Pope, I found a man of warmth and dignity, a man 'in love with God' and who knew in faith and intellectually that for human beings Jesus is indeed 'the way, the truth and the life' (John 14:6) and that 'there is noone else to go to'. (John 6:68).
On 12 February, when the pope's resignation became known in New Zealand, I was involved in several radio and television interviews.
Some interviewers asked about his being a hardliner and commented that the Roman Catholic Church was long overdue for a change. I faced a series of questions about how a new pope would need to overturn the Church's teachings on celibacy and its opposition to gay marriage, abortion, women priests and euthanasia. Some seemed to indicate that, somehow, it was not the role of the papacy to faithfully hand on the doctrine of the Church, but rather to conform to the latest fashionable opinions. I can never understand such questions or the fact that many seem to think that the Church is 'irrelevant' because it does not give in to the latest opinions or way of thinking. The Pope and, indeed, the Church, cannot be judged on whether it is old-fashioned or modern. Just because someone upholds absolute values does not mean that they are 'out of touch' or 'irrelevant'. The pope's role is, of course, to be a focus of unity of many diverse communities throughout the world, those communities comprise 1.2 billon Catholics.
The homily Benedict gave at the inauguration of his pontificate is worth meditating on. In one part Pope Benedict said:
'Today too the Church and the successors of the apostles are told to put out into the deep sea of history and to let down the nets so as to win men and women over to the gospel – to God, to Christ, to true life. […] The net of the gospel pulls us out of the waters of death and brings us into the splendour of God's light, into true life. It is really true: as we follow Christ in this mission to be fishers of men, we must bring men and women out of the sea that is salted with so many forms of alienation and onto the land of life, into the light of God. It is really so: the purpose of our lives is to reveal God to men. And only where God is seen does life truly begin. Only when we meet the living God in Christ do we know what life is. We are not some casual and meaningless product of evolution. Each of us is the result of a thought of God. Each of us is willed, each of us is loved, each of us is necessary. There is nothing more beautiful than to be surprised by the Gospel, by the encounter with Christ. There is nothing more beautiful than to know him and to speak to others of our friendship with him. The task of the shepherd, the task of the fisher of men, can often seem wearisome. But it is beautiful and wonderful, because it is truly a service to joy, to God's joy which longs to break into the world.' [http://www.vatican.va/holy_father/benedict_xvi/homilies/2005/documents/hf_ben-xvi_hom_20050424_inizio-pontificato_en.html]
I don't think these are the words of a man who is, as one newspaper reported, 'traditionalist' and 'authoritarian' or who was criticised in a British editorial for failure 'to rethink moral doctrines'. We have only to read Benedict's encyclicals Deus Caritas Est (2005) and Caritas in Veritate (2009) to see how progressive he actually is. They are documents which clearly show that it is not Pope Benedict who needs to rethink moral doctrines.
I think Pope Benedict is a man of great humility. He did not look for power or prestige. I saw him carry his own satchel into three synods – warmly and sincerely greet people individually when he must have been worn out – preside over long ceremonies in intense heat because he was performing a service of love for God's people.
One of my favourite quotes is from his first encyclical. It challenges me and teaches me what the Eucharist truly is: 'A Eucharist which does not pass over into the concrete practice of love is intrinsically fragmented' (DCE 14).
I thank God for Pope Benedict and I pray that a pope will be elected who will continue to lead the Church in the ways of the gospel, who will be a servant of the Church and of all people with a tradition and a love that we all cherish. One international commentator wrote of Benedict's humility, '…it is the service that the Church needs, not any particular servant'.
I pray for a pope who serves with love as Benedict has done, after all he will be the Vicar of Jesus Christ who came 'to serve, not to be served'.