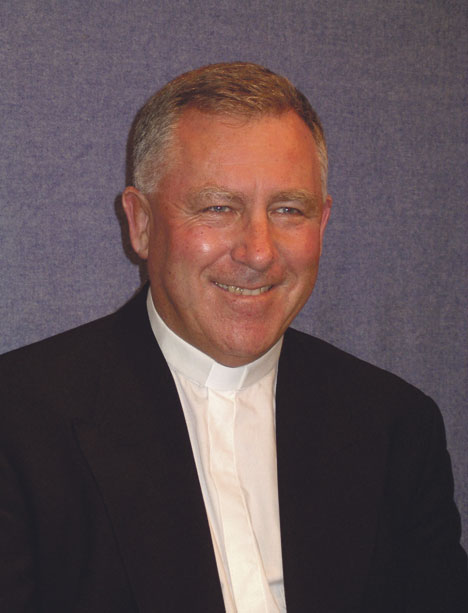 Opinion
December 2013
Archbishop John Dew
Let peace fill our hearts
Let love fill our minds
Make us loving disciples of Christ.
May we be one
May we be yours.
Abide with us, O Spirit of life.
These words have been prayed up and down the archdiocese during the 'Faith on Foot Pilgrimage' (17-24 November) to mark the end of the Year of Faith. Day after day we have prayed these words and they have inspired me and challenged me as I meditated on these simple words. With a small group of pilgrims from Wellington, we visited all 12 pastoral areas of the archdiocese, touching all four points of the compass – South to North, Pacific Ocean to Tasman Sea.
I was thrilled to walk and pray with so many children from our schools and parishioners of all ages on each stage of the pilgrimage. The newsletter of Sacred Heart Parish, Kaikoura said, on Monday, 18 November:
'A rainy night heralded a cool misty Monday morning. More than 50 parishioners, including many school children, gathered at the Old St John's site to commemorate the completion of the Year of Faith in the southeasternmost corner of the diocese. Archbishop John Dew with three of his staff – vicar for education Jenny Gordon, Pastoral Services director Michael Noonan and director of Support Services David Mullin – led the pilgrimage. Archbishop John led a prayer outside the St John's property, with parishioners. We then processed for about 100 metres along the road where we continued praying, then returned to the site of the church for the completion of the service. It was a gentle, God-given morning with the mist low on the hills and the animals in the paddocks reminiscent of Jesus' time in Galilee. How blessed we are with our beautiful setting of Kaikoura and all it encompasses.'
Experiences like this were repeated all over the archdiocese. As people gathered we walked our faith into the new future with the people who will make that happen. We enjoyed wonderful weather and saw the beauty of the country God has gifted us with.
'Faith on Foot' was a reflection of the inner journey or pilgrimage of each one of us and of each parish community. We remembered those who have gone before us, rejoiced in the wonder of creation, asked forgiveness as we acknowledged our failure to live up to the gift God offers us at baptism.
In each pastoral area I presented a Fitzgerald Award to a person or a couple who has made an outstanding contribution to the life and mission of the Church in that area.
These awards are given in memory of Dr John Patrick Fitzgerald, one of the founding fathers of the church in Wellington long before the arrival of Bishop Philippe Viard and the first Marist missionaries.
We have been richly blessed during this Year of Faith. In the words of the prayer above God has 'Filled our hearts with peace and our minds with love,' we still pray though that we will be made even more 'Loving disciples of Christ.' We have taken steps into the future with the reimagining of the archdiocese and the formation of new parishes. Much has happened, yet in some ways the Year of Faith opens the doors of faith in to the future.
The Year of Faith has come to an end, but a new season and a new time of blessings is before us. This season of Advent is a time of hope, of new beginnings, of continuing challenges to be intentional about our discipleship. That's why I think that prayer at the beginning of this column is so important. Maybe that can also be our Advent pilgrimage prayer.
I take this opportunity to thank everyone who has prayed for and worked with me over the past year. Your prayer and support give me confidence to move into a new year, sustained by the pilgrim prayer we also prayed often:
Guardian of my soul, guide me on my way today.
Keep me safe from harm.
Deepen my relationship with you, your earth and al your family.
Strengthen your love with me, that I may be a presence of your peace.
May your Advent pilgrimage be richly and deeply blessed. To all Wel-Com readers, your family and friends, I wish a truly blessed and peace filled Christmas.