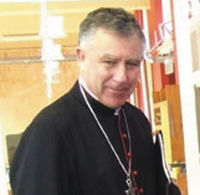 I have no doubt that there are, and have been, many saints in Australia and New Zealand. However, the recent announcement that Mary MacKillop is soon to be canonised is wonderful and exciting news for the church in this part of the world.
Autumn colours are beginning to shine in their splendour in Arrowtown around the Mary MacKillop cottage in the church grounds, the small school house where her first sisters of Saint Joseph taught the children of the district. Mary sent three sisters from Adelaide to open a school in Temuka in 1883. Mary MacKillop (1842 – 1909) visited New Zealand four times between 1894 and 1902. While in Rotorua in 1901 she suffered a stroke, but this did not daunt her missionary energies, focused particularly on the education of children in rural areas.
On October 17 in Rome, there will also be autumn colours as the universal church celebrates the canonisation of the first Australasian saint, Mary MacKillop. In every address at World Youth Day in Sydney in 2008, whether it was a speech, a homily or words of greeting or farewell, Pope Benedict mentioned Mary MacKillop. As the Pope flew out of Sydney after World Youth Day, he looked down on the city, the country and its inhabitants and prayed 'that many will be inspired by Blessed Mary MacKillop's example of compassion and service'.
In the homily of the final Mass the Pope paid tribute to those who nurtured the faith in Oceania: '… all those heroic missionaries, dedicated priests and religious, Christian parents and grandparents, teachers and catechists who built up the church in these lands – witnesses like Blessed Mary MacKillop, St Peter Chanel, Blessed Peter to Rot, and so many others'.
As we rejoice in the news of Mary MacKillop's canonisation, we take to heart the challenge 'to be inspired by her example', and that of the other founding saints of our church in New Zealand: Suzanne Aubert and her companion, Peata Hoki, lay Catholics like the Poppelwell family in Otago or Dr Fitzgerald in Wellington, communities of resistance like Parihaka, Fr Emmet McHardy, SM, missionary in the Solomon Islands. St Peter Chanel we know well; Blessed Peter to Rot was a catechist from Papua New Guinea, who gave his life during the Second World War occupation, rather than betray his faith.
These were men and women 'for all seasons' who knew a spring-time excitement of responding to the gospel call, who committed their lives in compassionate service to others and who persevered through the summer heat of long days. Some died young, before reaching the 'autumn of life'; others lived through the winter days of disappointment, failure and misunderstanding, but continued in their following of Jesus to the Cross and experience of Resurrection.
Today the Sisters of Saint Joseph of the Sacred Heart and the Sisters of Saint Joseph of Nazareth continue living the inspiration of Mary MacKillop and co-founder Fr Julian Tenison Woods, in diverse services throughout the archdiocese: in education, in spiritual direction and faith development, in a particular concern for those on the margins of society, in a variety of parish and pastoral services.
We rejoice with them that Mary MacKillop, a 'woman for all seasons', will be an inspiration for us all.
The Anglican church in New Zealand has included her in their liturgical calendar with the following prayer:
Gracious God
You gave to your servant Mary MacKillop
a heart to teach and care for children.
We thank you for the good she and her order have done.
By your grace give us a like compassion for the poor
and a concern for the education of the young
that we all may learn to praise you with joyful hearts.