World News
Cecily McNeill
9 April 2008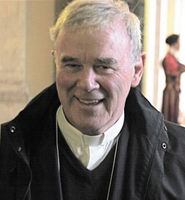 Australian Jesuit provincial, Mark Raper, has been appointed to the job recently vacated by the society's new superior general.
Fr Adolfo Nicolás was elected Father General of the Society of Jesus at its 35th General Congregation which ended in Rome on March 6 after two months' deliberation (for more about Fr Nicolás, click here).
Fr Nicolás was president of the Jesuit Conference of East Asia and Oceania but relinquished this position at his mid-January election as successor to Fr Peter Hans Kolvenbach.
Fr Raper's appointment comes as the Australian province is seeking a successor to lead the province when his six-year term expires at the end of this year.
After the announcement, Fr Raper wrote to the province from Rome giving his thoughts on what this appointment means for the Society's direction in this part of the world. His statement was published in the Australian province's online newsletter, Province Express, March 5, 2008.
'This new mission corresponds to our vision of the mission of the Australian Province. We have already made significant personnel commitments in Asia. All the provinces and regions which form part of Conference of East Asia and Oceania, especially the newly established regions, understand that they are part of a larger community. We need one another's support in order to achieve our common mission.
'Consequently across Asia many Jesuits now live and work beyond their national and province boundaries. The conference has many common projects which need to be consolidated for the medium and long term, such as the new programs in Burma and East Timor, and the growing activities in China and Vietnam.
'Moreover, the Society in Asia has much to offer other parts of the world. If we work together well, quite a lot of people can be considerably helped. The openness demonstrated in our Province by Jesuit and lay members to collaboration with one another across our ministries, and increasingly across Asia and the Pacific, gives me greater confidence in undertaking this new mission.'
The Australian Province of the Society of Jesus has an oversight for New Zealand as well as parts of the Pacific. However, few Jesuits have a permanent ministry in New Zealand since Fr Stan Lim left the tertiary chaplaincy at Victoria University in the early 1990s.
Previously, Jesuits had taught at the Holy Name Seminary in Christchurch and at Holy Cross College, Mosgiel.
For more about the Australian Jesuit Province, click here.