Compassion Sisters in Awakening The Dreamer symposium
Judith McGinley OP
9 June 2011
Poverty, earthquakes, floods, people searching for freedom in many countries, others holding fast to the security of the 'old ways', worldwide mismanagement of money – all these things disturb us and urge us to question the way of life we have grown accustomed to in our rich and beautiful land. Often in these days, just as in psalms of old, we hear another question, 'Where is our God?'
All this was part of the backdrop to an energising, life-giving gathering in May as the Sisters of Compassion gathered in their holy space at Island Bay for their General Chapter.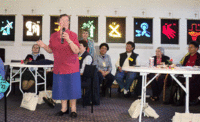 These good women prayed and sang together, laughed and cried, danced, listened and shared together. They reflected with honesty and courage on their spirituality and tradition. They prayed and pondered God's Word and asked the Holy Spirit to reveal God's call to their congregation at this time in history.
During their time together the Sisters engaged with the Awakening the Dreamer Changing the Dream symposium. This may sound rather esoteric for women so grounded in the reality of poverty and suffering. Yet the symposium touched into their own gospel questions about the call to prayer and contemplation, building community, working to change cycles of poverty and violence, understanding the needs of the earth and living compassionately in Aotearoa, Fiji, Tonga and Australia.
The Awakening the Dreamer – Changing the Dream symposium is led by trained volunteer facilitators. In this case the leaders were Mary-Ann Greaney, Tricia Thompson, Chelsea Robinson, Norrie Gibson and Luke Collins – all of whom took time from their own study and work.
The symposium calls on the wisdom of old and up-to-date science to raise awareness of the needs of every human being and of the earth. It calls forth a personal response from participants and offers simple suggestions for changing the way we live.
Powerful video clips provide insights and challenges. These included images of beauty and sadness, land projects and communities working for change, people in contemplation, prayer and celebration.
We heard from Martin Luther King, 'I have a dream', Mother Teresa of Calcutta, Thomas Berry, Brian Swimme, Bishop Desmond Tutu, Ghandi and other easily recognised leaders of our time.
How moving for me to see the heads of so many wise women nodding in agreement, frowning in concentration and smiling in recognition of old wisdom! Who knows where this time of awakening will take them as they continue to work together to bring forth, as the guiding principle of our time, an
• Environmentally sustainable,
• Spiritually fulfilling,
• Socially just
• Human presence on the planet.
I felt that Suzanne Aubert, the early Sisters and the people of the river would be pleased with the earnestness of those who are following in their footsteps. It seems to me that in many ways they are already living these ideals.
Image: Srs Esther Powell, Cecilia Scanlon standing, Rachel Moreno partly obscured and Mary-Ann Greaney, Srs Sia Otuhiva, Lusiana Puleosi, Judith McGinley OP and Lusiana Raratini, a member of the new leadership team.