World News
Tara Bahrampour
2010

Just 18 days ago, Nyi Nyi Aung didn't know whether he would live to see his home again. Imprisoned in the Burmese jungle, he'd been beaten, forced to sleep in a kennel in his own excrement, denied medical treatment and told by captors that his US citizenship didn't matter.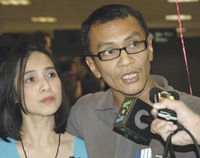 At times, it seemed as if it didn't. Aung, sentenced to three years of hard labour after he was caught promoting democracy in Burma, the land of his birth, was crippled by back pain and pain in his right leg from the beatings. Over six months, he had been moved from one solitary confinement cell to another, the last one a stagnant, mosquito-infested room with crumbling walls and a plastic bottle for a toilet.
Aung knew prison conditions in Burma could prove fatal – a friend had died behind bars – and sentences could be extended without due process. US consular officers were rarely allowed to visit him.
Then, last week, Aung was suddenly released. It felt both miraculous and not strange at all.
Aung, 40, had always known what he was doing was risky. The naturalised US citizen had devoted his life to trying to undermine the military government that has ruled Burma, also known as Myanmar, since before he was born. As a teenager, he was arrested and tortured for participating in a 1988 democracy movement. He fled the country and taught nonviolent resistance along the Thailand-Burma border. He went to the United States in 1994 under the refugee resettlement programme and studied computer science.
Occasionally he made forays into Burma to train activists and collect information. It was dangerous work in a country where more than five people at a time cannot gather in the street and where printing anything at all – even a restaurant menu – requires government approval.
'In Burma, every citizen has been breaking the law. For listening to the radio, they can arrest you,' Aung said. 'All the rules are crazy. However, you don't get caught unless you're against the regime.'
This is an excerpt from a story published in the Washington Post on March 25. For the full article go to www.washingtonpost.com/wp-dyn/content/article/2010/03/24/AR2010032403072.html

Image: Nyi Nyi Aung with fiancee Wa Wa Kyaw at Dulles Airport, Virginia.