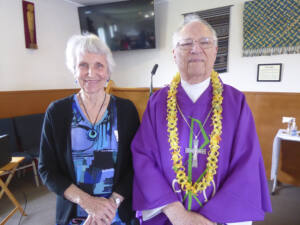 WelCom February 2023
A thanksgiving Mass at Bell Block Mass Centre in the Catholic Parish of New Plymouth on Sunday 27 November, celebrated 41 years since the centre's opening. Bishop Peter Cullinane, who blessed and opened the centre in 1981, presided.
The centre was part of the Fitzroy parish with Our Lady Help of Christians Church until 2015, when New Plymouth Catholic communities were amalgamated into the Catholic Parish of New Plymouth.
With over 120 people at the celebrations, there was a strong sense of belonging and community. Included were six of the original 13 people who helped to establish the Bell Block community as well as several parishioners who had moved away from Bell Block over the last 41 years.
Names of the deceased from the community were remembered during the offertory procession, and prayers of the faithful were read by community members from the 1980s and 1990s, as well as by current members of the parish's ethnic communities.
Following Mass, Bishop Peter blessed and launched a commemorative book titled The Bell Block Catholic Centre and its Community, written by community member Barbara McCracken.
The book outlines the history of the founding community, its growth, and social and Church changes over the 41 years of the centre's history. It also covers the legacy of generous and visionary couple Jack and Nora Barry who donated land to the Church in 1965. Jack had envisioned the need for housing for the elderly and a Catholic Centre when Bell Block was then a sparsely populated farming area. His gifted land provided a base for the centre, which opened in 1981. Housing for the elderly in Wynyard St was opened in 1985.
The book also mentions Fr Wally Cooke (Co Laois Ireland), who was responsible for establishing the Bell Block Catholic community in 1981; Fr Jim Rickard (RIP), who in his retirement in Bell Block, celebrated Mass at the centre until he was 90 years old; and the Assumptionist Sisters who had a prayerful and active presence in ministry in Bell Block and New Plymouth from 1983 until 2001. Srs Marion Feeney and Michelle Carter travelled from Auckland for the Mass and book launch.
The local Catholic community served a delicious lunch amidst much reminiscing. The celebrations of liturgy and community were a testament to the strength of the welcoming spirit that has been a characteristic of the Bell Block Catholic community for 41 years.
Contact The Catholic Parish of New Plymouth at: office@catholicparishnp.nz for a copy of the book at $20 plus postage.