Barbara Caygill
3 July 2012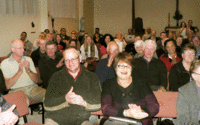 Stoke parish turned on a party for its former parish priest Fr Pat McCullough on his golden jubilee of priestly vocation and his 75th birthday, June 16.
Fr Pat, who served St Francis of Assisi parish for about 12 years, enjoyed the celebrations – attended by around 200 well-wishers – which started with a shared pot luck meal. The Irish-themed entertainment which followed soon had feet tapping in time to the music.
The Tongan community also contributed with rousing warrior dances and an expressive and touching tau'olunga danced mainly with the hands.
At the end Fr Pat cut the shamrock-bedecked cake and Stoke parishioners gave him a cheque to speed his travel to Ireland.
The following day, Sunday which was his actual birthday, a concelebrated Mass was celebrated.