Obituary
Jane Allan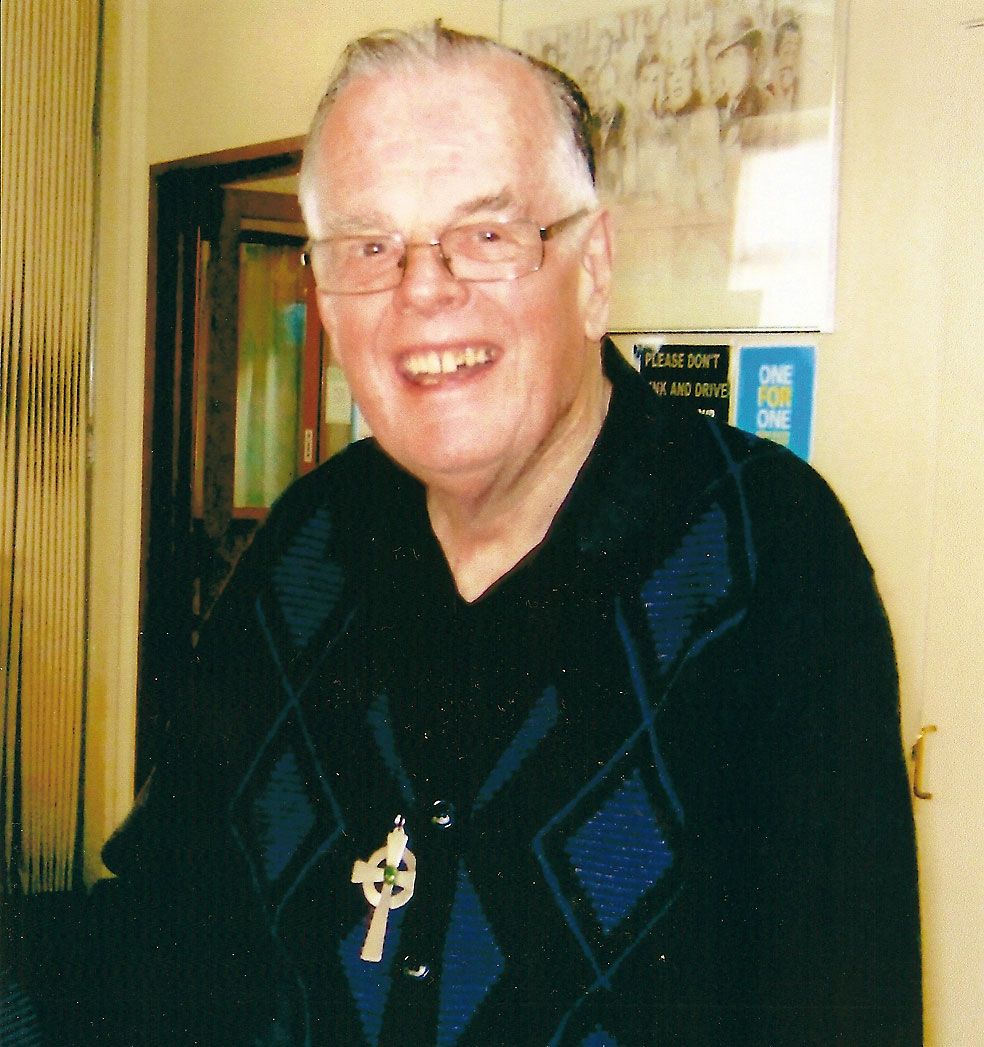 A fortnight before his death while distributing communion at Napier's St Patrick's Church, Monsignor Timothy Hannigan had remarked to a parishioner that he wanted to die 'in his vestments'.
Fr Tim was granted his wish. He was at his happiest surrounded by people and died minutes after baptising a baby.
Born in Ireland, the eldest son of Denis and Teresa Hannigan, the young Timothy studied for the priesthood at St Patrick's College in County Tipperary. In his final year he met Archbishop Peter McKeefry and, on 10 June 1956, was ordained for the Archdiocese of Wellington.
His family were initially upset at this decision – New Zealand was a long way away – but Fr Tim's weekly letters to his parents as well as phone calls and emails to siblings Tom, Denis and Brenda, and nieces and nephews kept the family in touch. He made trips back home and his family also visited New Zealand.
On arriving in Wellington in December 1956, Fr Tim became a curate at St Anne's parish, Newtown, and was a hospital chaplain. From 1963, he spent three years as curate in Levin, where he was also borstal chaplain.
Ohura was his first placement as parish priest, for three happy years. In 1969 he set up Palmerston North's Diocesan Pastoral Centre with the then Fr Peter Cullinane.
Fr Tim spent 10 years there, and loved working as part of the Pastoral Centre team, developing his teaching skills and making use of the latest aids to spread the Word and post-Vatican II ideas.
Fr Tim became parish priest at St Patrick's when the Marist Fathers handed the parish over to the diocesan priests in 1979; the Fathers had been there since 1859. Little did Fr Tim know he would be in the parish for the next 34 years.
When the Diocese of Palmerston North was formed in 1980, Fr Tim was appointed vicar-general to Bishop Peter Cullinane for 14 years. This meant time away from his beloved parish, driving between Napier and Palmerston North but he enjoyed the responsibility and the ability to make changes for the better, as well as communicating with the diocese and working closely again with Bishop Peter.
A turning point for the parish came on 15 August 1981 when fire destroyed the recently-restored St Patrick's Church. The new church was opened on 17 March 1984.
A great deal of planning had gone into the design and Fr Tim, with his love for electronics and gadgets, made sure the sound system was up to the minute. The blessing of the children at the Sunday Masses began then, with the children always keen, especially at Christmas and Easter when Fr Tim might have something extra for them.
In 2000 Fr Tim was made a Member of the New Zealand Order of Merit for services to the community, including his work with the sick and elderly.
This was also the year he stepped down as parish priest though he remained active in the parish as assistant priest. In retirement, Fr Tim took an active role in Napier's Inner City Churches Covenant, worked with seamen and their families as part of the Apostleship of the Sea, and was involved with the Knights of the Southern Cross and the local Conference of St Vincent de Paul. His generosity was legendary.
To his staff in Palmerston North and Napier Fr Tim was kindness itself, taking a great interest in their families and activities. They responded by staying with him for years. To his fellow priests he was a loved mentor and friend, and to his parishioners he was a dedicated priest and friend.
His sister Brenda, brother Denis and two nieces, Naoimh and Deidre, made the trip from Ireland for his funeral Masses. Fr Tim chose to be buried in Napier, and he is sadly missed by all who knew him.