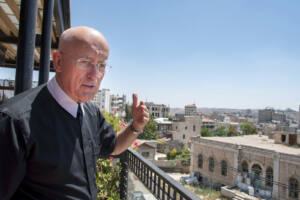 WelCom February 2023
David McLoughlin
Bethlehem University Vice-Chancellor Br Peter Bray fsc is carrying a message of pessimism and hope as he tours New Zealand, speaking about life in Palestine for his students and their families.
Pessimism, because Br Peter believes the often-touted 'two-state solution' to the decades-old stand-off between Israel and Palestine cannot happen; and daily, his students face checkpoints, which can include guns in their faces just to attend classes.
Optimism, because his students are able to peacefully resist the Israeli occupation of their East Jerusalem and West Bank homelands simply by getting an education; and the policies of newly reappointed Israeli Prime Minister Benjamin Netanyahu are now so extreme that even hard-core American supporters of the Israeli government are concerned.
From 24 January to 9 February, Br Peter has been on a speaking tour of New Zealand's six Catholic dioceses talking about how Kiwis can help the cause of peace in the Holy Land.
Raised in Waitara, Taranaki, Br Peter has worked in New Zealand and internationally as a teacher and education consultant. Before taking up his present role at Bethlehem University in February 2009, he was Director and CEO of the Wellington Catholic Education Centre.
Bethlehem University was founded by Br Peter's De la Salle Brothers in 1973. It was the first registered university established in the occupied West Bank territory of Palestine and is the only Catholic university in the Holy Land. It currently has 3259 students (Muslim and Christian), 17,282 graduates and 214 faculty members. It celebrates its Golden Jubilee this year.
Speaking at Te Rau Aroha-Diocesan Centre in Palmerston North on Wednesday 25 January, Br Peter urged his attentive audience to tell New Zealanders the Palestinian story truthfully and accurately.
Half the university's students came from occupied East Jerusalem by bus through multiple checkpoints, he said, never knowing how often the buses would be stopped, whether they would be turned back or let through, whether they would have guns put in their faces.
'So when they step off the bus on to our campus, nobody will arrest them, interrogate them or put a gun in their face. They will be safe. Bethlehem University is an oasis of peace.' No Israeli military had come on campus since 2002.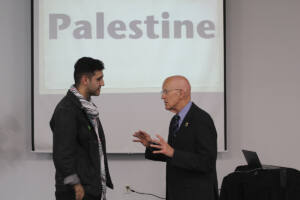 Br Peter outlined the history of the region, ruled by the Ottoman Empire for centuries until the end of World War I, when it became a League of Nations British mandate. European Jews, after centuries of persecution, looked to Israel as a homeland, and thousands began moving there to join Jews who had long lived alongside Muslims and Christians. After the Holocaust of World War II, sympathy for the plight of the Jews led to the United Nations drafting a scheme to divide the region between a Jewish Israel and an Arab Palestine. Israel was established in 1948, and after wars then, and in 1967 and 1973, the Palestinians lost most of their own lands. Many Jewish settlements have been established in the occupied West Bank.
While Palestinians in the past had resisted with violence, that had not worked, Br Peter said. Many Palestinians now resisted Israeli occupation by going to school or university, by becoming doctors, or by tending the family olive grove.
'These are all forms of resistance, because they are done to live a normal life. The important thing is never to give up. That is a feature of the Palestinians. Equality and justice are what is needed. But one group of people is dominant in Palestine. That is a human rights violation.'
Br Peter asked his audience 'to pray for us' to raise awareness and show his students they were not forgotten; support the university financially via donations through Caritas, be careful not to engage in any anti-Semitic or Islamophobic talk; and acknowledge there was suffering by Israelis and Palestinians.
'Our work at the university is good, even when we can't see an outcome. What Bethlehem University is doing in terms of resistance is educating people, giving them skills. I have to stand with people as they find a way to move past this.'
Br Peter's pessimism becomes hopeful optimism when he considers that peace eventually came to places such as South Africa, Northern Ireland and East Timor: 'And that's the hope I hold on to, that a peace will eventually come.'
---
Br Peter was invited to undertake his speaking tour by the NZ Catholic Bishops Conference, with assistance from the Catholic Enquiry Centre and Caritas Aotearoa New Zealand. Caritas passes on donations marked as 'Bethlehem University'.
David McLoughlin is a journalist who works as communications adviser for the NZCBC..
---
Br Peter's speaking tour follows the New Zealand Catholic bishops publishing a statement in July last year urging action to solve the long-standing Israel-Palestine issue. It is available online at: catholic.org.nz/about-us/bishops-statements/end-palestinian-suffering/
In preparation for his visit, Br Peter made a series of videos on behalf of the bishops about the daily lives of Palestinians in the Israeli-occupied West Bank territory, where Bethlehem University was founded by his De la Salle Brothers in 1973 as the first and only Catholic university in the Holy Land.
The special series of videos is called Greetings from Bethlehem. The first is titled Ordinary People in an Extraordinary Place; Palestinians in the Holy Land, and can be viewed online at: www.youtube.com/watch?v=d2S_A4kBfeU
The second video, is titled The Challenges of Ordinary People in Palestine and can be viewed online at: www.youtube.com/watch?v=R17kia53-GY