Stormbirds programme helps people in Australia and NZ deal with grief
Esther Saldanha
3 May 2011
Earthquakes! Tsunamis! Cyclones! Floods! Nuclear disasters! These seem to be a regular feature in the news these days. People in Christchurch, Japan and around the world are struggling to cope with the trauma that disasters like the Christchurch and Japanese earthquakes can lay on us.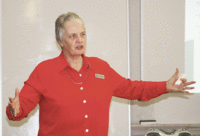 As emotions build up and reactions vary, people find it difficult to decide what is normal anymore. Here we see a need to help people become more resilient and channel their emotions in useful ways. Three Catholic organisations, Good Grief Australia, Seasons for Growth and Caritas Aotearoa New Zealand have united to address this need.
The Stormbirds programme is dedicated to the spirit of St Mary MacKillop who lived by the maxim, 'Never see a need without trying to do something about it'. This non-denominational, educative programme is designed by Good Grief, Australia (the parent company of Seasons for Growth) to help relieve suffering and bring hope to communities recovering from natural disasters which leave individuals feeling vulnerable.
Stormbirds provides an opportunity for each participant to integrate the appropriate knowledge, skills and attitudes to understand and to manage the changes brought about by natural disaster. This takes place within an atmosphere of like-to-like peer support. It develops skills for coping, problem-solving and decision-making and helps restore self-confidence and self-esteem.
The programme is named for the stormbirds who, the Aboriginal people believe, foreshadow storms by their call or behaviour. Many witnesses tell of birds and animals migrating to safety before such natural disasters as seismic waves, earthquakes and volcanic eruptions.
Josephite Srs Mary Ellen O'Donoghue and Jeanette Foxe who were on the writing team of 'Stormbirds' were in Wellington on April 13 to teach the Seasons for Growth trainers to facilitate this programme. Good Grief has provided the journals and manuals for Stormbirds free of cost to the people of New Zealand.
The trainers will in turn train other facilitators so that the programme is available wherever there is a need for it. All the trainers at the workshop which Archdiocesan Pastoral Services organised, greeted the programme with passionate enthusiasm as they learned of its potential to help those grieving loss through disaster. Recognising the practical and emotional need for such a programme, Caritas has provides funds as well as funding the distribution of warm clothing to the quake-stricken people of Christchurch.
If you would like to facilitate this programme or have this programme brought into your school, parish or community, please contact Esther Saldanha. Email: e.saldanha@wn.catholic.org.nz or phone: 04 496 5182.
Images: Top Jeanette Foxe rsj guides the discussion on the programme she helped write.
Lower: Delia Ruane, Lyn Wilson, Carole Fleming and Chris Procter-Abraham discuss ideas about grief while co-facilitator Mary Ellen O'Donoghue rsj, back, discusses the next step with organiser Sue Devereux.