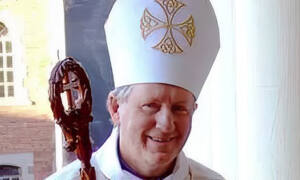 WelCom May 2023
Retired Catholic Bishop of Dunedin Colin Campbell has been appointed Interim Rector of Holy Cross Seminary.
Bishop Emeritus Campbell has accepted the interim role until a permanent appointment is made to replace Fr Mathew Vadakkevettuvazhiyil, who has left.
Holy Cross Seminary in Auckland is the national seminary for the education and formation of diocesan priests for the Catholic Church in New Zealand.
New Zealand Catholic Bishops Conference Vice President, Bishop of Auckland Stephen Lowe, says the bishops expect the interim rector to be in the role until the end of 2023, to allow time for Rome to appoint a permanent rector.
Bishop Emeritus Campbell was Bishop of Dunedin from 2004 to 2018, when he retired. He was formerly Rector of Holy Cross Seminary from 2001 until his appointment as a bishop in 2004.
Bishop Lowe also expressed the bishops' gratitude for Fr Vadakkevettuvazhiyil for his contributions to the seminary.
'The bishops are very appreciative of Fr Mathew for his time with the seminary and his passion for the preparation of seminarians for priesthood,' Bishop Lowe said.
Before his seminary appointment Fr Vadakkevettuvazhiyil was widely known as a parish priest in the Auckland Diocese, was Deputy Chair of the diocese's Justice and Peace Commission, and a member of the Council of Priests and College of Consultors.
Before coming to New Zealand Fr Vadakkevettuvazhiyil, a Salesian of Don Bosco, was a missionary, teacher and administrator at Salesian education institutes in Tanzania and Kenya and an assistant parish priest and administrator in Kenya.
Bishop Lowe said Bishop Emeritus Campbell's past experience as Rector of Holy Cross Seminary makes him an ideal candidate for the interim role.
Sources: NZCBC; CathNewsNZ