WelCom February 2021
Sue Seconi and Nick Wilson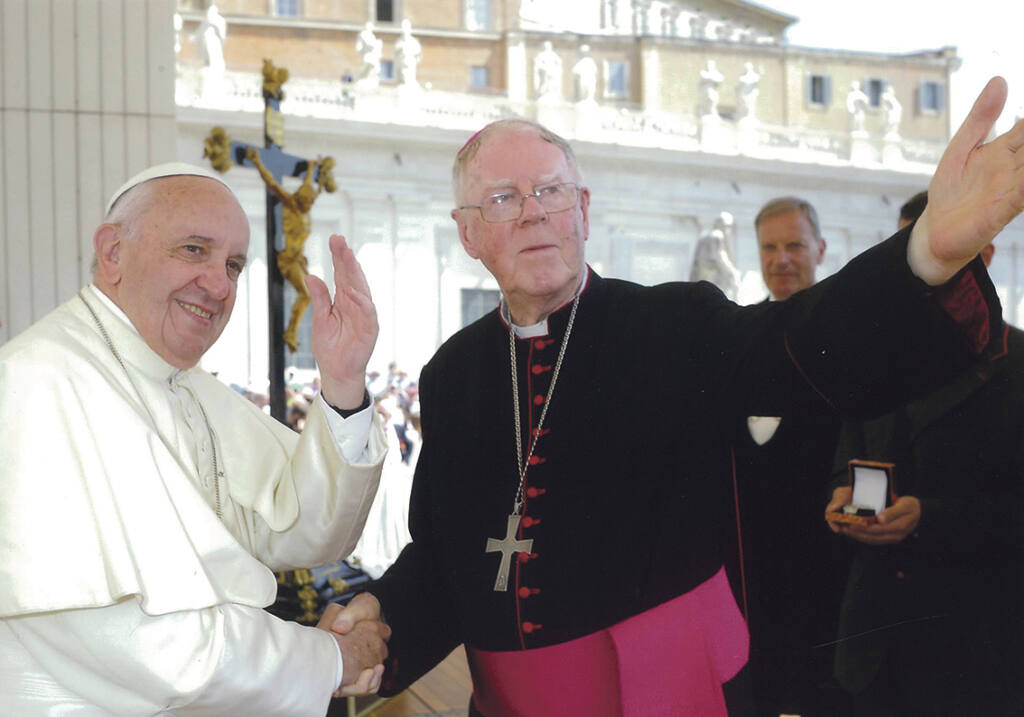 The Diocese of Palmerston North celebrated the 25th anniversary of Bishop Owen Dolan's Episcopal ordination last December. Cardinal John Dew presided and Bishop Peter Cullinane preached the homily at a special Mass celebrated at the Cathedral of the Holy Spirit.
After Cardinal John read the Apostolic Blessing of Great Joy from Pope Francis the full congregation gave Bishop Owen a thunderous round of applause.
Bishop Peter related in his homily the adage, 'that it's an ill-wind that doesn't bring somebody some good'. He was referring to his heart attack in 1990, which 'was the turn of events that brought us Owen in 1995. It completed a circle that started in Palmerston North and finishes in Palmerston North'.
Owen Dolan was born in Palmerston North, around the corner from the Cathedral, on 30 September 1928. Sadly, his mother died a week later. He was raised in Hawera by his father's sisters. He was educated St Joseph's Primary School, Hawera High School and St Patrick's College, Silverstream. He attended Holy Cross Seminary in Mosgiel during the 1940s and 1950s and was ordained a priest at Hawera on 21 July 1954.
Fr Owen was then appointed to a number parishes in the Archdiocese of Wellington, several of which became part of the Diocese of Palmerston North.
From 1973 to 1978, Fr Owen served as a missionary in Peru. His work alongside Columban Fathers and the Maryknoll Fathers in Lima and Arequipa profoundly impacted and shaped his priestly life.
On returning to New Zealand, he served at St Francis Xavier Parish, Stokes Valley, and St Joseph's Parish, Wellington. From 1981 to 1990 he was Vicar General to then Cardinal Tom Williams for the Archdiocese of Wellington and National Director for the Pontifical Mission Societies from 1991 to 1996.
In 1995 Owen was appointed Coadjutor Bishop to the Diocese of Palmerston North when Bishop Peter Cullinane was very ill. (A coadjutor bishop is appointed to succeed a bishop after he retires, resigns, or dies.)
At his 25th anniversary Mass, Bishop Owen recalled, 'It was the day before John Dew was ordained a bishop in May 1995. The Apostolic Nuncio Thomas White spoke to me about the situation in Palmerston North. With Bishop Peter's ill health, they were looking for someone to take over and the decision was made for a coadjutor rather than an auxiliary bishop.
'However', he said 'no sooner was he appointed Coadjutor, than Bishop Peter made a remarkable recovery!'
Owen Dolan was ordained the second Bishop of Palmerston North on 10 December 1995. He retired in 2004 as Emeritus Coadjutor Bishop, with Bishop Peter remaining as Bishop of Palmerston North.
His other appointments have included Episcopal Deputy for Caritas Aotearoa New Zealand, Hospital Chaplaincy, Refugees and Migrants, and Gender Issues.
Bishop Owen lives across the road from the Diocesan Centre where he is a frequent visitor. He is much loved throughout the diocese, evidenced by the full congregation at the Cathedral in December, most of whom joined the celebratory lunch at the Diocesan Centre following Mass.
On behalf of all in the Diocese we congratulate Bishop Owen for his 25th episcopal anniversary.
Whakamihi atu ki a koe +Owen, Mā e atua koe e tiaki, e manaaki!