WelCom May 2020: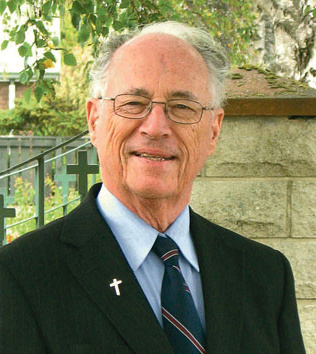 People of the Diocese of Palmerston North and wider have offered their congratulations and prayers in thanksgiving to Bishop Peter Cullinane, for his 40th Anniversary of Episcopal Ordination, on Thursday, 23 April 2020.
Their prayers recognised Bishop Peter's outstanding leadership and contribution within the Diocese of Palmerston North. Bishop Peter was ordained as the first Bishop of the Diocese of Palmerston North.
Cardinal John Dew said, 'Warmest Congratulations to Bishop Peter and sincere thanks for his service as a bishop to Palmerston North and to New Zealand. Please remember Bishop Peter in gratitude in your prayers.'
Bishop Peter has served on several International Catholic Committees. He has given many years of service on ICEL (the International Commission for English in the Liturgy) and has always shown a deep interest in liturgy and liturgical reform.
Bishop Peter has also contributed significantly to both the Ecumenical and Inter-Faith dialogue within New Zealand and abroad, bringing closer relationships between differing denominations and faith traditions.
Bishop Peter's many writings have offered a wide breadth of knowledge and learning from which many have benefited, and he continues to contribute generously of his time for ministry when called upon.
Blessings and good wishes are offered to you Bishop Peter at this time of celebration.
A full interview with Bishop Peter looking back on his 40 years as Bishop will be included in an upcoming issue of WelCom.